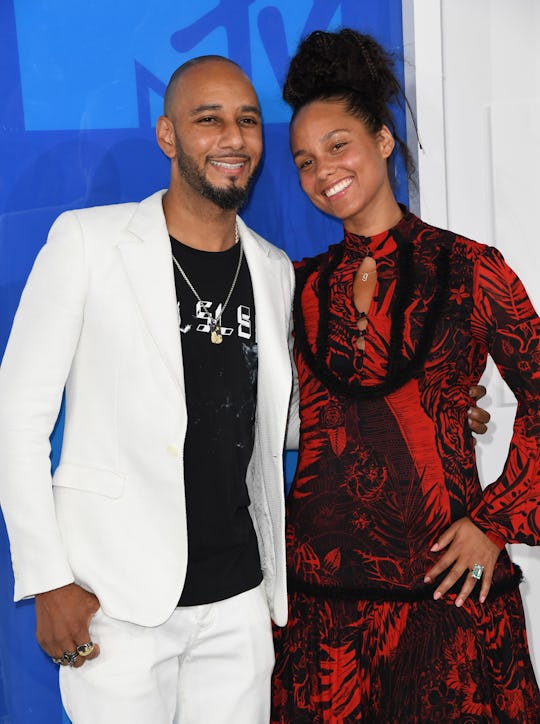 ANGELA WEISS/AFP/Getty Images
Swizz Beatz Defends Alicia Keys' No Makeup Look In The Realest Way Possible
Some dudes just know how to do it up right when it comes to defending their partner. Not that they should have to, of course, since modern men and women tend to be pretty good at doing it themselves. But sometimes... sometimes it's nice to know your S.O. has your back. This week's special kudos goes to Swizz Beatz for defending Alicia Keys' no makeup look from the MTV Video Music Awards on Sunday night. She looked fabulous and Beatz wanted to make sure everyone knew it.
Grammy award-winning singer Alicia Keys has made a decision about her own face (I know — how dare she?): She has decided she wants to go out into this world with less makeup. The mother of two has been spotted out at actual, real-life events with no makeup for some time (she performed at the Democratic National Convention makeup-free, will appear on The Voice makeup-free, and will be featured in the September issue of Ebony — you guessed it! — makeup-free. Keys made the decision to show the world her fresh, bare face because she was tired of worrying about what other people thought, according to an essay she wrote for Lena Dunham's Lenny Letter:
Every time I left the house, I would be worried if I didn't put on makeup: What if someone wanted a picture?? What if they POSTED it??? These were the insecure, superficial, but honest thoughts I was thinking. And all of it, one way or another, was based too much on what other people thought of me.
While many fans have applauded Keys' decision to go au naturel, not everyone has been impressed. Some criticized her for showing up at the MTV Video Music Awards with flawless looking skin, calling her out as a phony (although Keys never said she was going to stop taking care of her skin, right?), while other nasty tweeters just thought she looked awful and felt no compunction sharing their thoughts online, of course:
Rapper, hip hop recording artist, and producer extraordinaire Swizz Beatz, who is married to Keys, had a few choice words for the people who were criticizing his wife. He posted a video on Instagram this week with a message for those critics.
In the video, Beatz addressed the audacity of "somebody sitting home mad because somebody didn't wear makeup on their face," adding:
Not your face, but they didn't put makeup on their face because they just didn't feel like wearing makeup. But you mad because that person didn't put on makeup to please you? Type of sh-- is this? Cause you can do whatever you wanna do. She didn't tell y'all don't wear no makeup. She just said that she's not vibin' with the makeup all the way 100 percent like that. That's kinda her thing that she wanna do.
Again, not that Keys needed him to jump to her defense, right? Because she has got her own voice and her own mind and knows how to use both every day of the week.
But still... it's nice to know your man's got your back for all the right reasons.