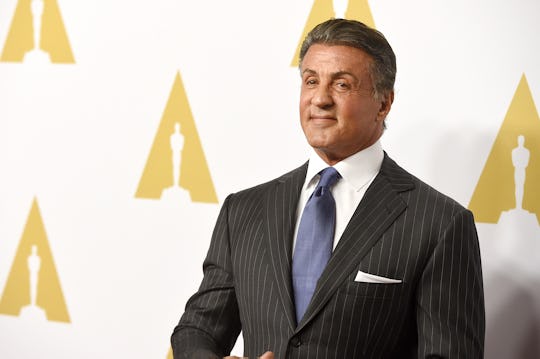 Kevin Winter/Getty Images
Sylvester Stallone Considered Oscar Boycott & Passed Up The Opportunity To Make A Major Statement
Sylvester Stallone knows a thing or two about adversity. He wrote the original script for Rocky in three days over twenty hours. When he tried to sell his script he had some fledgling interest — being a newbie in the biz and all — but nobody wanted him to play the main role. He held out, agreed to a pretty serious budget cut, and eventually got to play the one character who managed to define his entire career. Rocky became the biggest hit of 1976, earning Sly an Oscar for Best Picture and the right to make a bunch of increasingly weird sequels. All because Sly stood his ground. When Stallone considered an Oscar Boycott recently, however, standing his ground didn't seem to be in the cards.
Stallone, who is up for Best Supporting Actor for Creed, a film directed by Ryan Coogler and starring Michael B. Jordan (both men of color that were not nominated for Oscars) recently revealed that he had initially considered boycotting the 2016 Oscars along with a host of other actors, many of them black or minority, due to the Academy's lack of diversity in its nominations. According to a BBC report on Tuesday, Stallone apparently spoke to Coogler during a nominees lunch about the #OscarsSoWhite controversy, saying, "If you want me to go, I'll go. If you don't, I won't." According to the outlet, Coogler replied, "Just go there and try to represent the film."
And so, Stallone took Coogler's advice. Sly's heart seems like it was in the right place. Support your teammates, take a stand against the increasingly obvious lack of diversity at the Oscars. More than a few important players in Hollywood have decided to boycott the Oscars this year in a form of peaceful protest, so Stallone would have been joining an important crowd. Director Spike Lee, who will be awarded an honorary Oscar this year, fittingly chose Martin Luther King Day to announce his intention to boycott. Husband and wife team Will Smith and Jada Pinkett Smith will not be attending either.
But while Stallone's intentions might be good... it sort of reminds me of those people who almost give up their seat for you on the subway then think better of it. Like as long as they thought about doing the right thing it's basically the same as actually doing the right thing.
It's not. Saying you were thinking of boycotting at a press conference might make you sound like a good guy. But it doesn't actually mean you're being a good guy.
Maybe if he had boycotted, others would have followed suit. Maybe he needed to be, along with George Clooney, one of the few non-POC actors to stand up and say something in a serious way. After all, Stallone hasn't been on (what I'm going to call) the legit radar for decades, and people still were so excited to hear his name called out as a winner at the recent Golden Globes that they gave him a standing ovation. He has his director and his co-star to thank for that in many immeasurable ways, and instead of taking the opportunity to, well, take a stand, he passed it up.
We all get it would be hard for him to rock the boat at this stage of his career. Just on the cusp of a quasi-comeback. But do you know what's worse than doing nothing? Thinking about doing something, telling everyone you thought about it... then going on as if nothing had happened.