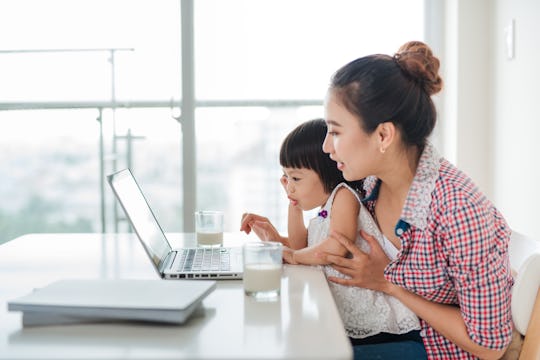 makistock/Fotolia
Here Are The Recommended Ages For Take Your Child To Work Day
Oh how 9-year-old me was thrilled when Take Our Daughters To Work Day launched in 1993. Not only did it mean I would be heading to work with my dad, but it also involved having access to a ton of office supplies. And that was a thrill for a girl who relished (OK, I still do) the smell of fresh pencils and the sight of a stack of Post-Its. These days, the program is designed to include boys so that everyone can get in on the fun. But will the Take Your Child To Work Day age limit keep your kid from participating?
"The program is recommended for girls and boys ages 8 to 18," noted the Take Our Daughters And Sons To Work Foundation (TODASTW). "While children who are older than 12 may benefit from the program, it has been our experience that children under 8 tend to be facing different issues and simply do not benefit from the program in the same way."
The website said things that might interfere with children reaping the benefits of the program include a lack of attention span and/or reading comprehension, adding, "the day doesn't speak to their experience. But, while there is a suggested age range, the numbers are just that — a suggestion. Ultimately, the decision is up to an individual workplace, especially if safety is a concern (e.g. construction work or a hospital setting).
"To assist and support workplaces that include youth who are in their late teens, we have established content and materials that speak to the various age levels such as older teenagers," TODASTW said.
The resources also include sample days for work environments ranging from corporate to restaurants to construction sites. Ideas for activities include taking your child to the accounting department to show them how to create worksheets (corporate environment) or having kids take orders or greet and seat patrons (restaurant environment). There are also ideas for how to create an educational day if you work from home or are a stay-at-home parent.
"Show your child what it takes to manage a household," TODASTW noted. "Have your child or children assist you with making lunch and preparing dinner, laundry, cleaning, bookkeeping, food shopping, attending to the car, taking care of a younger sibling(s) in the household." If you have a friend who works from home, then you might also consider swapping kids so they can see what it's like to work in another home for the day.
Consider also that the program is called take Take Our Daughters and Sons To Work Day, meaning that you don't have to take your child to work in order to foster the purpose of the program. People are encouraged to invite children other than their own to participate. "All daughters and sons should be able to take part in the program," Carolyn McKecuen, president of the TODASTW, told Forbes. The magazine noted that you may want to invite your niece or nephew, neighbors, friends, or children from housing authorities and shelters.
In 2015, former United States president Barack Obama even asked people to re-think the focus of the day. "Reach out to young people in your community who don't have a workplace to visit," he said. "Invite them to spend the day with you. Show them what you do every day, and tell them that, with hard work and determination, they can do it too."
And if your children are 7 years old and under, then you can still find ways to teach them about the purpose of the day. There are a number of ideas that include storytelling, crafts, and discussion topics that can get them thinking of what going to work is all about. Because it's fun to adult when you get to go back to being a kid, right?
Check out Romper's new video series, Bearing The Motherload, where disagreeing parents from different sides of an issue sit down with a mediator and talk about how to support (and not judge) each other's parenting perspectives. New episodes air Mondays on Facebook.