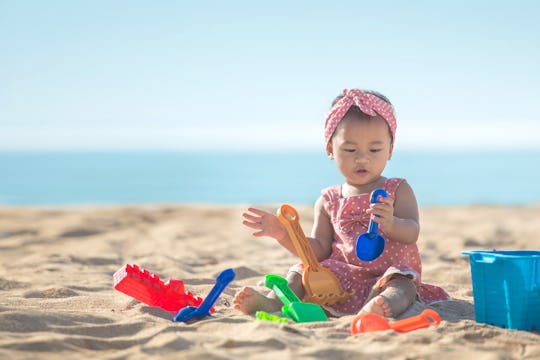 Odua Images/Shutterstock
Whoa, Taking Your Baby To The Beach Impacts Their Development In A *Huge* Way
We first took our daughter to the beach when she was 9 months old. Her eyes widened at the sight and sound of the waves, the people, and the gulls. She kicked her feet in the water, scooped up fistfuls of sand again and again, and left exhausted but happy. Having always found the shore a restorative place for body and soul, I wondered whether the beach had the same benefits for babies as well. As it happens, I was right all along. Not only is the seaside a fun place for a family visit, it also assists an infant's brain development.
"We first learn about the world and ourselves through our senses. As babies see, hear, touch, smell, taste, and move, they learn about their environment and their place in it. This multisensory processing provides an essential sense of self and security," Lindsey Biel, OTR/L, a pediatric occupational therapist with a private practice in New York City and the co-author of Raising a Sensory Smart Child, tells Romper. "The beach is probably the single most stimulating sensory environment out there!"
It was once believed that babies' development was something that happened naturally, and that it was actually harmful for parents to offer too much stimulation. (Back in the 1910s, moms were told not to pick up their babies except to feed and change them, and one behaviorist even warned that more than an occasional kiss on the forehead would spoil a child!) Thankfully, more enlightened scientists have proven otherwise. Having conducted years of EEG studies on infants, Norwegian neuropsychologist Audrey Van der Meer recently concluded that early sensory stimulation, particularly in outdoor environments, helps babies form the neural connections and motor skills they need for proper development.
In case you needed more convincing that a day at the beach is a great thing for your baby, here's what Biel and other experts have to say.