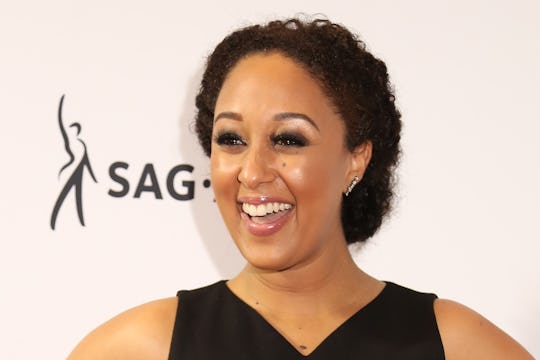 Leah Puttkammer/Getty Images Entertainment/Getty Images
Tamera Mowry-Housley Is Over The Mom Comparison Trap & Her Argument Is Flawless
Say the name Tamera Mowry-Housley and just try to not break into the theme song from her hit 90s show Sister Sister. But the truth is, she's exactly that — a sister. Not just to her identical twin, actress Tia Mowry-Hardrict, and brother Tahj Mowry, but to the women she speaks to five days a week on The Real, where for the past four years she has passionately commented on cultural topics and real issues parents face every day.
"I just feel very blessed that I have a platform to speak to other mommies out there about things that I have learned along the way," Mowry-Housley, who is a mom to 4-year-old Aden and 2-year-old Ariah, tells Romper. She says her own experience of having a sister and friends who were moms before her showed her how important it is for women to share their experiences and talk about the things that they have learned throughout their parenting journeys.
That openness is what inspired Mowry-Housley to share on The Real about her experience with postpartum depression and, most recently, served as the inspiration to partner with GoodNites Nighttime Underwear to talk about her son's experience with nighttime wetness.
"It took him a little longer to be dry at night," Mowry-Housley says. "We have reached the milestone this year. Being dry is already something to be excited about — it takes a lot of work. But I didn't know being dry at night was something completely different." She explains that she automatically thought that since Aden was staying dry during the day, the same would go for his overnight experience. But she quickly learned that her assumption was incorrect. In fact, one in six kids experience nighttime wetting, according to the GoodNites website.
"I questioned myself, I questioned my child," she says. "But he is not alone. It is very normal for children to experience nighttime wetting. Knowing nighttime dryness evolves as the child grows and it's simply a matter of their physical development helps me just have a little bit more peace throughout the nighttime dryness journey."
Like the conversation about postpartum depression, Mowry-Housley says she thinks the root of the reason why mothers keep these personal and parental struggles to themselves is not only a lack of information, but a fear of being judged.
"A lot of the time whenever you are going through this, you feel judged because people judge things they don't understand," she says. "So, I think it's important for us women — us moms — to actually stand up, not be afraid to speak about our experiences, and build this support group that is going to protect us in the process. The issue is that if we don't stand up, then some people might not get the help that they need or get the information they need."
A lack of information about postpartum depression is what initially caused Mowry-Housley to stay quiet about her struggle. "I was afraid at first to speak up about it because I didn't know exactly what I was going through," she says. "You think there's only one extreme, but you can still have postpartum depression if you don't want to hurt your baby." For Mowry-Housley, she says she felt like she was in a dark cloud and just couldn't escape it. It made it even more complex, she says, that she was on a daytime talk show where she was speaking her truth, but then felt afraid to speak about this particular aspect of her life. "It was a very challenging experience," she says. But with the help of her husband, Adam Housley, friends, and co-hosts on The Real, she says she eventually reached a point where talking about it was not only possible, but necessary.
"And because I was able to talk about [postpartum depression], there are women out there who are able to identify it and get the help that they need — and it's totally fine to ask for help," she says.
And that's the same motto she applied to her most recent parenting hurdle — overnight potty training. It wasn't easy and at first, she says, she let typical mom guilt work its way into her thoughts: Am I doing this right? What's wrong with my child? What is going on? "Because you're comparing and at the same time you're giving in to the societal pressures," she says.
"But I learned that it's normal and your child will fully grow out of it in most cases — and they have their own experience," Mowry-Housley says. "Kids have their own timeline." When she lets parental pressure get in the way, she says she consistently reminds herself of one of her favorite sayings by Theodore Roosevelt, "comparison is the thief of joy" to help get her back on track. "Whenever you start to compare, that's when you get yourself into trouble," she says. "So make sure that you get all of the information that you need — and then start sharing."
It's that authenticity, Mowry-Housley says, that is a part of her DNA, something she attributes to her mother's honesty throughout her childhood. "I grew up with her being brutally honest about marriage, about having kids — just being brutally honest about life," she says. "And because of that, I feel like I learned more than someone just sugarcoating the experience."
Of course, honesty, she says, sets you up for backlash, but then again she wouldn't have it any other way. "What I've learned is that when you are being authentically yourself, there's always going to be someone out there who has an opinion of you," she says. "It's when you are being a people pleaser and trying to please everybody that people probably aren't going to say certain things. But do you grow from that?"
From that, Mowry-Housley says, she has discovered that vulnerability has led her to relate to more people, and that's something she wouldn't trade for playing it safe.
"People are going through the same things you are going through most of the time," she says. "You're hardly ever alone. And that's why I think it's important to voice your experiences. Don't be afraid to do it because there will be someone out there — even if it's one person — you help."
And that's a sisterhood worth believing in.
Check out Romper's new video series, Romper's Doula Diaries:
Check out the entire Romper's Doula Diaries series and other videos on Facebook and the Bustle app across Apple TV, Roku, and Amazon Fire TV.