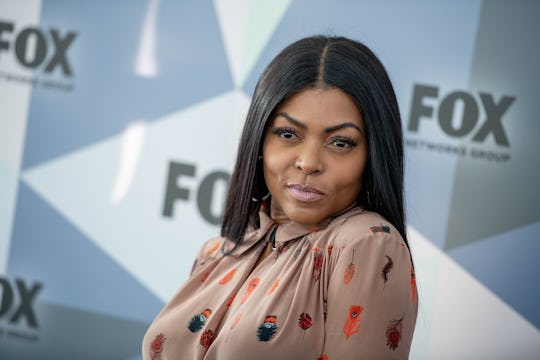 Roy Rochlin/Getty Images Entertainment/Getty Images
Here's What Taraji P. Henson Has To Say About All Those Pregnancy Rumors
by Christina Montoya Fiedler
With an explosion of celebrity baby news circulating around social media, a new bout of speculation, sadly, comes as no surprise. Well, one star isn't going to let it spread any further without her two cents. In fact, Empire star, Taraji P. Henson addressed pregnancy rumors surrounding herself and fiancé Kelvin Hayden with an epic and perfect response.
Henson sat down with Extra's Tanika Ray to clear up the rumors, once and for all. And everyone take note. As she told Extra, "I am not pregnant, y'all. Please, cut it out."
The rumors started after the couple were seen together at the U.S. Open, and it appeared as if she wasn't drinking, according to BET. Others noticed that Hayden seemed to coddle and hold her a little more than usual, as Extra reported. "I was drinking a wine spritzer, so yes, there was alcohol. I was just pacing myself," Henson told Extra. As for the extra affection from her fiancé, Henson told the news outlet, "He does that to me all the time." After all, they are newly engaged and in love...
Hayden has two children of his own from a previous marriage and it seems like they aren't looking to add anymore to their brood, according to a report from BET. "No, we're done," Henson said, according to BET. "He still has three little ones that aren't teenagers yet. We're good. We're just really good for each other."
And it seems the two are as happy as can be. Henson recently posted an Instagram pic of the two at the U.S. Open. It read: "Us just living our lives putting ✔️ on our bucket list 💋💋💋" Clearly the two are just out and about, basking the glow that only newly engaged couples exude.
Hayden proposed to Henson over Mother's Day dessert in May, according to People. She showed off her new bling in her Instagram post and wrote: "He started with the Cartier love bracelet BUT that was my #Mothersday gift and then he dropped to his knee and I almost passed out!!"
Henson confirmed her relationship with Hayden back in December 2017, in an episode of Essence's Yes Girl! podcast. Henson said: "I'm happy in my personal life. Finally it has happened to me!"
Although it's possible their relationship started well before then, a paparazzi snapped a pic of the couple holding hands in 2015, according to Essence. Henson has also hinted that the wedding will be simple, local, and sometime this summer, according to Extra. "It's probably gonna be home, somewhere with his family and my family, a nice meeting ground where everyone can get to… We'll find some mutual ground," Henson told the outlet.
As for now, Henson is working hard on the fifth season of the hit show Empire, which returns to Fox on Sept. 24. And while any future babies might be out of the picture for Henson and Hayden's future, hopefully they'll share some wedding photos. But in the meantime, as Henson said herself, let's all "cut it out" with these pregnancy rumors once and for all.