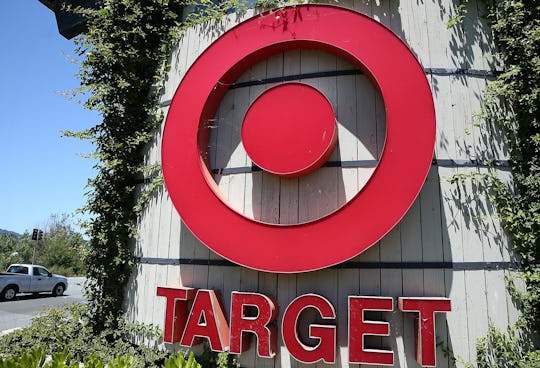 Justin Sullivan/Getty Images News/Getty Images
Target Is Redesigning Its Stores & Throwing In Something *Amazing* For Nursing Moms
I don't mean to generalize or anything, but Target is like the holy land for parents. Target is a one-stop shopping destination that has everything a parent could ask for, including Chip and Joanna Gaines' incredible new lifestyle line, Hearth and Hand. In short, Target is the best. And on Wednesday, parents got one more reason to obsesses over the retail chain — according to Motherly, some of Target's remodeled stores will include dedicated nursing rooms. Can I get an amen?
In March, Target announced its plans to remodel 110 stores around the country. Target claimed the revamped stores would "treat customers to an easy, more inspiring shopping destination," according to A Bullseye View, and it looks like the retailer stayed true to its word. The first remodeled store, which was recently unveiled in Richmond, Texas, is already blowing fans away. One of the new perks parents are most exited about are the dedicated nursing rooms, a feature which will be included in 40 of the remodeled stores, according to POPSUGAR. By the looks of it, the new nursing rooms (which will be located in the dressing rooms) are comfortable, secure, and easy on the eyes. Most importantly, it's refreshing that Target acknowledged the need for dedicated nursing stations in its stores. It goes without saying that parents shouldn't have to worry about finding a safe and clean space to nurse while they're out shopping.
Mark Schindele, the senior vice president of Target Properties, said of sentiment behind the remodeled stores:
As we remodel stores now and in the future it's about mass customization, being locally-relevant and doing it at scale across the country, listening to and learning from our guests' feedback along the way.
Yes. It's so great that Target is listening to the feedback of its customers — the stores should be catering to its customers first and foremost, especially where it concerns parents. If you Google "Mom" and "Target," you'll be treated to a ton of articles about moms and their love for the popular stores. These new nursing stations are the perfect "thank you" to all the parents that have supported Target along the way.
Not to mention, Target has been a longtime supporter of breastfeeding parents. In June 2015, Target's policy for breastfeeding parents went viral. Target's policy reads, according to Today:
Guests may openly breastfeed in our stores or ask where they can go to breastfeed their child. When this happens, remember these points: 1. Target's policy supports breastfeeding in any area of our stores, including our fitting rooms, even if others are waiting. 2. If you see a guest breastfeeding in our stores, do not approach her. 3. If she approaches and asks you for a location to breastfeed, offer the fitting room (do not offer the restroom as an option).
So, did anyone else's heart skip a beat? Target, you are fantastic.
In addition to the new dedicated nursing stations, the remodeled stores will also have parking spaces outside for a "drive-up" service, according to POPSUGAR, and a new food and beverage department stocked with groceries and to-go snacks. Target has the full list of new perks available on its website.
As of Nov. 10, the store in Richmond, Texas is 100 percent open. Parents in the area can now use the dedicated nursing stations as much as their hearts desire. As for the other remodeled stores, it remains unclear when they'll officially open. In the meantime, people can celebrate this important step forward for breastfeeding parents. Target's remodeling plans mark a huge change in how retailers view its customers, and CEOs are finally listening to the needs of parents. It's a win-win all around.