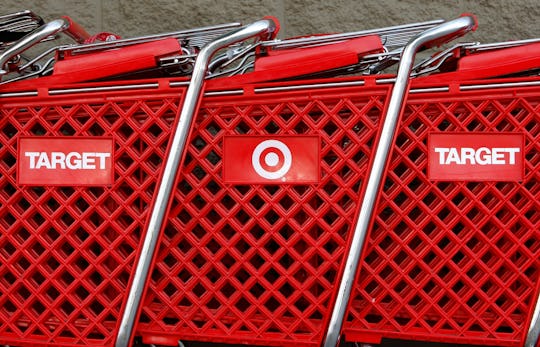 Justin Sullivan/Getty Images News/Getty Images
You Can Snag 25% Off Home Decor & More At Target *This* Weekend
Sometimes it can be difficult to figure out what to do with your weekends. If you're anything like me you start off the week with really ambitious plans of visiting a museum, hiking some mountain, cleaning out closets. And then the week goes by and you remember you are still the same person and you don't want to do any of those things ever. So instead you come up with a plan to do something you actually want to do — like shopping. With that in mind, here are all the best of Target's weekend deals so you can look forward to a weekend of still being yourself and having fun.
I don't know if anyone else has noticed this or not, but Target is pretty great. I've come to see it as a safe place, somewhere I can get a delicious latte and wander around the store for hours filling up my cart with things I probably don't need but will happily buy anyhow. Personally I tend to keep a weather eye out for things like warm blankets to place artfully over my tired old sofa and discounted throw pillows. Because throw pillows really do make all the difference to a room, you know? Without having to do any actual renovations or work, of course.
Oh hold on now everyone: did I happen to mention to you that home items are on sale this weekend?
Target has decided to bring back its popular Weekend Deals and it looks like the deals on offer for the weekend of Nov. 10 and 11 are especially fantastic. According to a press release, here's what is going to be on offer at a nice discount of 25 percent off this weekend: "Home décor and more, including furniture, rugs, lighting, bedding, bath, tabletop and window treatments both in stores, at Target.com and on the Target app."
In other words, almost everything I love is on sale this weekend. You don't need a coupon for this sale either — you just walk on in and spin through the aisles, shopping and maybe singing a little to yourself.
There's a reason Target is offering up Weekend Deals as opposed to weekday deals, by the way; because the company understands all of us on an intimate level. They know when we want to shop, as Target noted on the corporate website:
Oh, and if you're wondering why weekends, it's when most guests love to do their Target run. (Twice as many guests shop Target on Saturdays and Sundays than on an average weekday.) Plus, this year we're making it easier than ever to grab those must-haves, with many items available through Order Pickup and Drive Up.
You do know what else this means, don't you? You could be saving money on Joanna Gaines' Hearth and Hand home decor. Which means you are basically going to be Joanna Gaines.
Whether you are shopping from home or in store, get yourself some great home decor this weekend on sale. Because the holidays are coming, and you're going to want to cover up your old furniture with pretty new things to fool everyone into thinking you've got your life together.
That might just be me.