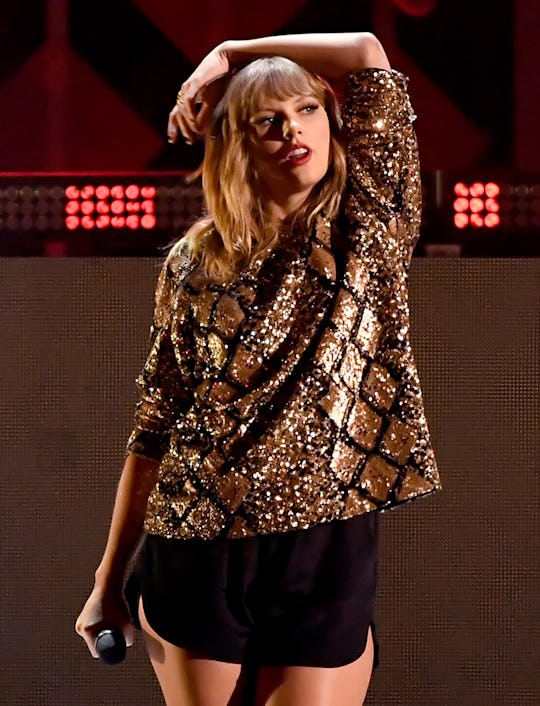 Kevin Winter/Getty Images Entertainment/Getty Images
Taylor Swift Did The Sweetest Thing For An 8-Year-Old Fan, So Get Ready To Cry
Imagine being a little girl and having tickets to see Taylor Swift in concert. I mean, imagine being anyone having Reputation tickets, but probably most especially a little girl. And now imagine how awful it would be if something happened to keep you from going to that concert. I mean, I fly into a rage if my WiFi is down and I can't watch Netflix, so I can't even comprehend that level of disappointment. Especially if the thing holding you back from going to the concert is a terrible injury. Well, Taylor Swift did the sweetest thing for an 8-year-old fan who had to miss her concert, and if you didn't love her before you probably will now.
Isabella McCunne is an 8-year-old girl living in Arizona who had tickets to see Taylor Swift but wasn't able to go see her in concert for a pretty awful reason. Little Isabella was badly burned in a fire pit explosion on St. Patrick's Day. She can't leave the Arizona Burn Center at Maricopa Medical Center in Phoenix, where she is trying to recover from having more than 50 percent of her body burned. To date, Isabella has undergone 11 operations including skin grafts.
And to top it all off, she wasn't able to see Taylor Swift, whose music has reportedly been constantly playing in the background to provide respite and inspiration for the young patient.
Fortunately, she didn't have to go far to see Taylor Swift, in the end. Because she came to her.
Isabella's mom, Lillian McCune, told People about the surprise visit:
Taylor took time out of her busy, busy schedule and sat down on the bed next to Isabella. She brought her a bag with goodies from her tour. She said she had to meet her because she was so inspired by her story and honored that her music helped her.
Swift, who was practicing for her upcoming concert in nearby Glendale, Arizona on Tuesday, stopped in to the hospital alongside her parents on to visit Isabelle. And it was one heck of a surprise for Isabella, who apparently didn't see Swift's visit coming:
She was so shocked! She was speechless. She was so happy. We were hoping for it but we didn't want to get her hopes up. When we found out, we felt it was best to keep it a secret.
Isabella has used her favorite singer as something of a talisman to keep her going through her recovery in the hospital. She has two pictures of Swift on the wall, and she listens to her favorite song "...Ready For It" on almost constant repeat to help her stay focused. As her mom told People:
The times that she was in conscious sedation, where she was given the medication but not aware what was happening, she would be singing all the words out loud and asked them to turn up her music.
Swift might have been made aware of Isabella's situation after several social media campaigns were started to raise awareness of the little girl's situation, according to AZ Central.
While it was obviously so inspiring for Isabella to meet Swift, there was one moment that ended up being extra special to her... a hug. As Lillian McCune told People:
When she was leaving, my daughter asked for a hug and Taylor turned around and said, 'Absolutely — I didn't want to hurt you,' They hugged and it was so heartfelt. I knew it meant a lot to Isabella.
And I'm sure it meant alot to Taylor Swift as well; to know how powerful her music felt to a little girl in need. To be able to help with a visit, a smile, and a hug. That has to be the best thing about being a celebrity.