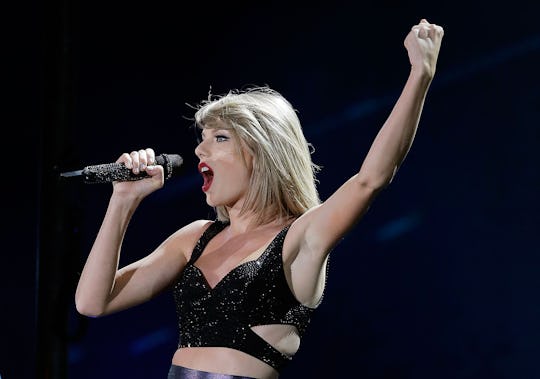 Mark Metcalfe/Getty Images Entertainment/Getty Images
Taylor Swift Donates $1 Million To Louisiana Flood Relief, & Here's Why It's So Important
Since Friday, the Baton Rouge region of Louisiana has been battered by torrential rains and historic, catastrophic flooding. Parts of the Baton Rouge area remains under a flood warning on Wednesday, as the Louisiana floods have claimed 11 lives; at least 20 parishes have been declared federal disaster areas since Friday. According to the Associated Press, Taylor Swift will donate $1 million to Louisiana flood relief efforts. Swift's donation isn't just a token tax write-off, either: her donation comes with plenty of free publicity — which is something that Louisiana flood victims could really use right now.
This isn't her first major charitable donation to important causes: In 2008, Swift donated $100,000 to the Red Cross to support relief efforts for flood victims in Cedar Rapids, Iowa. Last year, Swift donated $50,000 to New York City public schools with proceeds from the sale of her single "Welcome to New York," from her latest album, 1989. While gold medals and golden toupees have dominated the news as of late, Swift's donation turns the cameras to a massive natural disaster happening in our country right now. As people in Louisiana have fled the floodwaters, their stories have been drowned out by "bigger" items in news feeds — sound familiar?
The echoes of Hurricane Katrina — even over a decade later — still haunt the Louisiana landscape and its people. It lives on as a painful, collective cultural memory for thousands of Louisiana residents who felt utterly abandoned and even betrayed by the federal government and President George W. Bush. You may remember one of Swift's on-again, off-again music buddies — Kanye West — weighing in on live national TV, criticizing Bush for the disparity of relief response for and media coverage of Katrina victims. While not as egregious as Katrina coverage, recent news coverage of Baton Rouge flood victims feels distant or an afterthought, at best.
As generous as Swift's donation might seem, $1 million is just a drop in the bucket compared to what it's going to take for Baton Rouge to fully recover. The Red Cross on Wednesday said it estimates its relief operation will take at least $30 million. And that doesn't necessarily take into account other critical, less obvious issues ahead for relief and recovery, such as sending kids back to school who've lost their homes or even public health concerns like Zika virus, as standing water can become mosquito breeding grounds.
Louisiana needs our help — and Swift has come down from her pop goddess pedestal to remind us that we need all to step up for Baton Rouge, too. No matter where you are, you can do something. Here's a list of ways to help the Louisiana flood victims depending on your budget and ability, as well as a continuously updating list of organizations and groups accepting donations for flood victims.