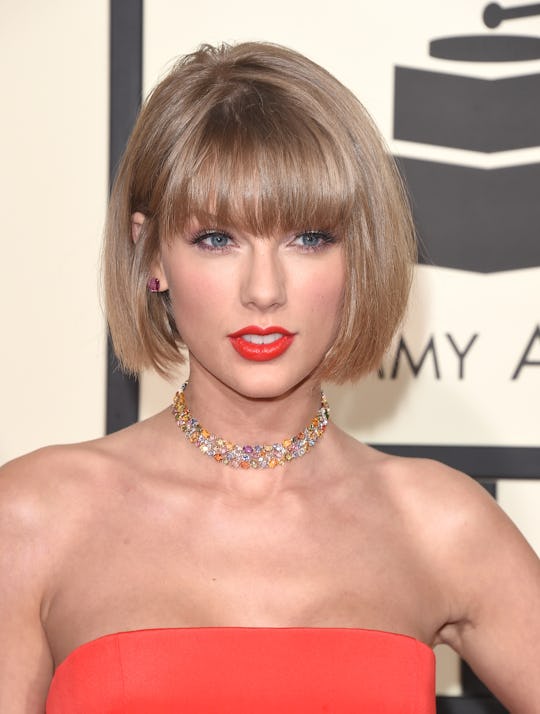 Jason Merritt/Getty Images Entertainment/Getty Images
Taylor Swift Donates $250,000 To Kesha, & It's A Seriously Admirable Example Of Solidarity
It's not an easy time to be Kesha right now: not only has she been embroiled in a long-standing legal battle with her former producer whom she claimed raped her, but she was just dealt a devastating blow by a judge who denied her injunction to be let out of her recording contract with him. Fans and celebrities alike have begun rallying around the singer, pledging their support on social media with the hashtag #FreeKesha, but Taylor Swift has gone one step further — Swift donated $250,000 to support Kesha and her case against producer Dr. Luke, according to USA Today.
Swift is no stranger to making generous donations to those going through difficult times — she previously pledged $50,000 to a GoFundMe account for her backup dancer's cancer-stricken nephew, according to People, and then donated another $50,000 to help an 11-year-old fan also battling cancer. Kesha's mother, Pebe Sebert revealed that Swift joined in the fight to help Kesha on her Twitter account Sunday, writing, "Taylor Swift has just generously donated $250,000 to Kesha, as a show of support during this difficult time. AMAZING!!" The gift is likely to be a big pick-me-up for Kesha, as the judge's ruling is a major win for Dr. Luke (his real name is Lukasz Gottwald). The producer has adamantly denied the allegations against him since Kesha's suit was initially filed back in 2014.
Shortly after Kesha's suit was filed, Dr. Luke's attorney, Christine Lepera, told Rolling Stone that the singer's claims were completely false, and that he had responded by filing a suit of his own against Kesha, for defamation:
As set forth in the complaint that we have filed on behalf of Dr. Luke, Kesha and her mother are engaged in a campaign of publishing outrageous and untrue statements about Dr. Luke to third parties, including scurrilous and false statements of purported physical and mental abuse of Kesha...The complaint explains that Kesha and her mother Pebe have wielded these defamatory statements in an attempt to extort Gottwald into releasing Kesha from her exclusive recording agreement with Dr. Luke.
Undoubtedly, Kesha's lawsuit is nothing more than a continuation of her bad and offensive acts. We are confident that Dr. Luke will prevail in all matters, and that our client will be awarded substantial damages for this malicious conduct.
According to the Washington Post, Kesha accused Dr. Luke of drugging and raping her, as well as emotionally abusing her, which she says contributed to her bulimia and subsequent rehab stint in early 2014. But the judge in the case, New York Supreme Court Justice Shirley Kornreich, ruled that Kesha is still legally obligated to fulfill her contract with Sony (to whom she owes six more albums), since she can technically still record with another producer without having any contact with Dr. Luke. Kornreich said:
There has been no showing of irreparable harm. She's being given opportunity to record...You're asking the court to decimate a contract that was heavily negotiated and typical for the industry.
A photo circulating of Kesha's reaction to the ruling — where she is seen breaking down in tears — led to an outpouring of love and support for the singer, who many feel has been treated unfairly, particularly as it seems like her allegations of rape are being ignored.
In addition to Swift's incredible gift, other celebs have spoken out for Kesha, including Lady Gaga, Demi Lovato, Ariana Grande, Miley Cyrus, Fiona Apple, Lily Allen, and Lorde.
Friday's ruling surely won't be the end of Kesha's lengthy and emotional legal saga, which clearly goes far beyond the question of contractual obligations. Hopefully, there will soon be some kind of agreement that will allow her to get back to making music on her own terms. But for now, at least, the huge support she has received from Swift and countless others will hopefully encourage her to keep fighting.