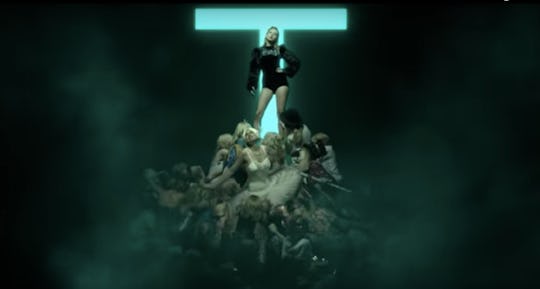 YouTube/Big Machine Records
Taylor Swift Swears In 'Reputation' & Yeah, What's Your Point?
It's hereeee. Reputation is here and the old Taylor Swift is as dead as was promised. Fans have been waiting for the album to drop since the surprise announcement in September, which first introduced us to choker-necklace, hair-gel Taylor — to no f*cks given Taylor. If the album 1989 served to present Swift's full makeover into a pop singer, in a very She's All That-sort of entrance, Reputation is her Sandy-puts-on-leather-pants-in-and-messes-with-her-hair's-natural-part-in-Grease moment. The beats are hard, the layering of tracks is heavier, and, yes, swears happen in Reputation. The best bit is that, when you hear the shiny, metallic "sh*t" ring out, you can feel Taylor Swift turning around to ask you, "yeah, what about it?"
Swift has been known to draw from her own life in her song lyrics — this is a nice way of saying, "Don't treat Tay poorly, or you'll wind up in the liner notes or called out on Genius." The crown jewel of calling out occurs in "I Did Something Bad," when she sings, "If a man talks sh*t then I owe him nothing. I don't regret it one bit 'cause he had it coming." It's maybe about Kim Kardashian and Kanye West, or it's maybe about Calvin Harris, but can we talk about how excited we all are to be using asterisks to bleep out Taylor Swift lyrics?
Twitter's army of Swifties already is.
Coming from a performer who once sang about teenage love and longing while toting a guitar, the shift to swear-thrower-downer is oddly satisfying, like the first time your mom let one drop. Many wondered, after the Swiftie girl squad unraveled, whether Swift's brand of feminism still had any punch left in it. Artists remake their images all the time, and if all she was doing in Reputation was putting on a crew neck sweater and changing up her red lip, it would feel cursory.
But this summer, when Swift testified in Denver, Colo., against a DJ, David Mueller, 55, she says groped her (he was suing for defamation), there was something admirably hard and knowing about her performance. Under cross-examination, she shot back at the prosector, who kept asking her to qualify her reaction to the groping, which was caught on camera. Eventally, Swift replied:
He did not touch my rib, he did not touch my hand he didn't touch my arm, he grabbed my bare ass,
Lyrics can be useful for sending smoke bombs to exes (John Mayer) and frenemies (Katy Perry), but the cutting responses Swift issued in the court room that day were like a gilded preview of the no-f*cks-given Taylor we woud meet when Reputation dropped.
One simple "sh*t," it seems, and Swift has awoken her coven. People are ready to get their sage stubs and cauldrons to help her bring down all the "sh*tty men," as the media has wound up terming them.
Swift never does anything carelessly, but the fact that her album dropped to coincide with the apparent peak of #MeToo takedowns — most recently claiming comedian Louis CK — is just another example of flawless marketing that also speaks to something real in her fans. Do I want my daughter to listen to Taylor Swift's album? You bet your f*cking *ss I do.
Between myself, and Twitter, I'd say new sweary Taylor deserves her oversized sweater and Craft-esque makeup. She shows a sort of fearlessness in terms of music and lyric on this album that makes us all want to climb a mountain made out of the shells of our past selves, stand literally on the ideas people had about you in the past. And also go, "ohhhhh! Tay sweared."
Check out Romper's new video series, Romper's Doula Diaries:
Watch full episodes of Romper's Doula Diaries on Facebook Watch.