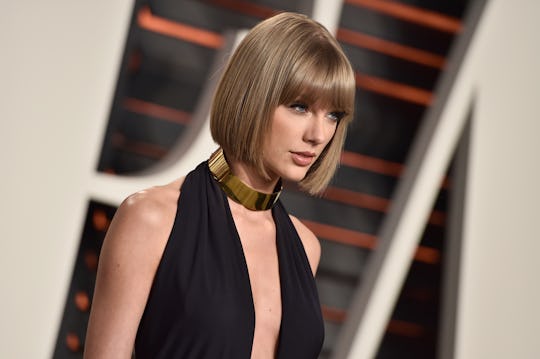 Pascal Le Segretain/Getty Images Entertainment/Getty Images
Taylor Swift's "Gorgeous" Teaser Is Here, & Fans Are Freaking Out
Thursday night is going to be one big night for T-Swift fans. The country darling-turned-pop star took to social media to drop a teaser of her new song, "Gorgeous," and people are jumping out of their seats in anticipation. But what does Taylor Swift's "Gorgeous" teaser mean, exactly? No one knows, and it's hard to form any real theories. After all, the entertainer did only share a small snippet of the track.
According to Billboard, Swift posted to Instagram Thursday afternoon a bit of her new single, "Gorgeous," from her forthcoming album, Reputation, which drops November 10. Swift only shared a few seconds of the track that she plans to release Thursday at midnight Eastern Time. When playing the video, T-Swift fans can hear a child's voice saying "gorgeous" before the beat drops — "4 beats and 3 down beats in a highly computerized tone," as Billboard described it.
The track's teaser is also paired with an animated graphic of Gothic typography spelling out the word "Gorgeous" multiple times on top of a gradient magenta background. Swift also posted two graphics with the same gradient background to her Instagram page announcing where and when she'll drop the highly-anticipated single from Reputation.
It's no surprise that Swift is teasing fans in such a way. Back in August, before dropping Reputation's lead single, "Look What You Made Me Do," Swift released a 13-second teaser for its music video that riled her fans. The pop star, though, found herself in a bit of hot water when critics and fans alike accused Swift of appropriating the visuals for "Formation," Beyoncé's powerful single from her stunning 2016 masterpiece, Lemonade. The official video of "Look What You Made Me Do" debuted during the 2017 MTV Video Music Awards in late August.
As for the song itself, the reviews were mixed, to say the least. The T-Swift camp, of course, loved it and the song became a chart-topper, according to TIME. Then there are those on social media blasting it as imitation. No matter which side of the aisle you fall, it's fair to say that the song is "dark and petty as hell," as Vox described it. The 27-year-old singer comes off, according to the lyrics, as a scorned, vengeful person who has a list of names she is working through. According to Rolling Stone, the running theory is that Swift is taking shots at her many public enemies (Kayne West, Kim Kardashian, Katy Perry, etc), even though she, herself, has played a not-so-innocent role in the feuds.
It would be interesting to see how "Gorgeous" fairs among the public. Fans are already going wild in anticipation of the single, taking to social media to share their excitement. But the snippet Swift shared on Instagram doesn't give people much to work on, so it's hard to know if "Gorgeous" would sound good or even remotely tolerable.
I'm also curious if "Gorgeous" will receive a warmer reception than "...Ready for It?," Swift's second single from Reputation. According to Vulture, the ellipses-laden song, which is the opening track of her album, is a poorly executed song that fell flat when it was released early last month.
Either way, T-Swift fans have a few busy months ahead of them. Not only is Swift dropping her new single, "Gorgeous," Thursday night — and her sixth studio album in the next few weeks — she is also playing the popular Jingle Ball in New York and Los Angeles in December. And, for the tech-savvy fans among us, Swift is also preparing to launch a new social app, according to The Ringer. T-Swift fans, enjoy your early holiday presents.