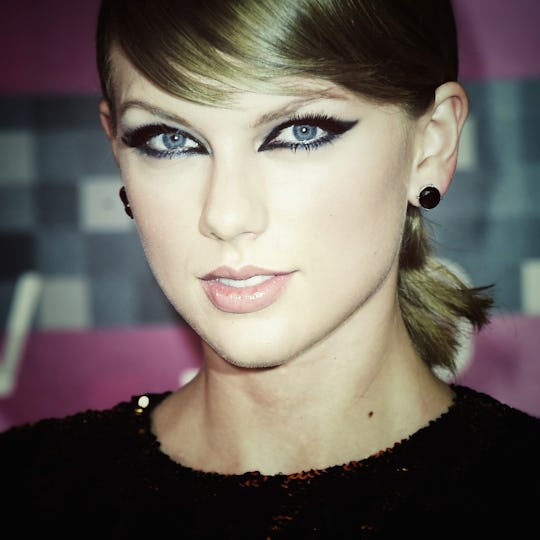 Frazer Harrison/Getty Images Entertainment/Getty Images
Will Taylor Swift Release A "Look What You Made Me Do" Music Video?
After days of mysterious teasers, Taylor Swift dropped her new single Thursday night. The song arrived a half hour before midnight Eastern time, immediately streaming on Spotify and Apple Music and the lyrics appeared on YouTube, so fans' next question was obviously whether Taylor Swift will release a "Look What You Made Me Do" video, and if so, when? Especially given the highly visual lead-up to the song's release, which is a precursor to the full album Reputation dropping Nov. 10, it seems like one surely has to be in the works. Update: On Friday morning, Swift announced via an Instagram post that the "Look What You Made Me Do" official music video would premiere during the MTV VMAs on Sunday, August 27.
It's hard to believe now, but a week ago, all of this was under wraps — the single, the album, all of it. The latest news of Swift was her triumph in a countersuit against radio DJ David Mueller, who was suing her for accusing him of groping her. Swift gave a withering testimony, and her victory was widely hailed as one for all women who've been groped and harassed. That was Aug. 14.
Then on Friday, Aug. 18, all of Swift's social media accounts went dark. something was up, and fans suspected a new album. After all, Swift was a bit overdue. She has traditionally gone two years between albums, but when Reputation comes out in November, it will have been three years after the release of her mega hit album 1989.
This week, swift began to tease the album with a series of CGI snake videos — first the tail...
Then the body...
Then the head...
Still no one knew for sure what it meant. Then Swift announced the Reputation release date, again via Instagram, and that she'd be releasing a single Thursday night.
Since "Look What You Made Me Do" makes no mention of snakes, and the title Reputation doesn't allude to it either, it's not clear yet how this all fits together. A video of the lyrics scrawled in black on a red background didn't do a whole lot to help the situation. But all of that is more reason to expect that there's some sort of video forthcoming that fills in the blanks.
Swift of course has a perfect opportunity to release that video, if it exists, at this weekend's MTV VMAs. An executive producer of the awards show told People that Swift definitely is not perfoming at the VMAs. Many were speculating that Swift would even end her feud with host Katy Perry with some sort of duet, although given "Look What You Made Me Do" contains a lyric that could be considered a dig at Perry — is "I'll be the actress in your bad dreams" a reference to Perry's hit single "Bad Dreams"? — that scenario seems less likely.
Still, the timing of the single just a few days before the VMAs does seem like more than a coincidence. And Swift doesn't actually have to perform to release a video, riiiiight?