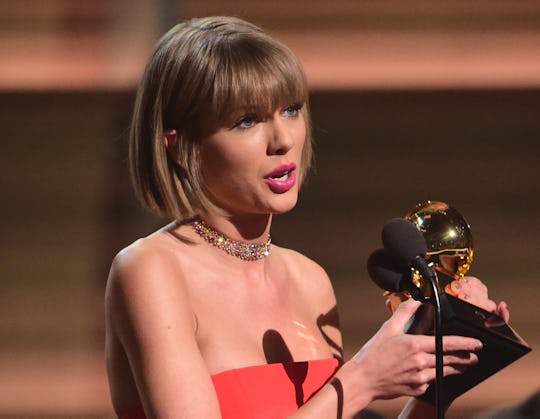 ROBYN BECK/AFP/Getty Images
Taylor Swift's Grammys Acceptance Speech Was Pretty Clearly About Kanye West
The 58th Annual Grammy Awards wasn't just about celebrating a year of music and paying tribute to those we lost. It was also, apparently, an opportunity to squash new, old, and still-existing beefs. (And in this case, rightfully so.) While accepting her award for Album of the Year, Taylor Swift's Grammys acceptance speech was pretty clearly about Kanye West. Taylor took the time to address the women in the audience (and around the world), reminding us all (as if we could possibly forget) that along the way, others will attempt to take credit for your accomplishments, your success and yes, even your fame. Even though Taylor might've been talking generally, she was also speaking pretty personally as well.
Taylor was very clearly referencing lyrics and comments made in Kanye West's upcoming album The Life of Pablo, in which on one track, titled "Famous", Kanye claims that he "made Taylor Swift famous," when he crashed the MTV Video Music Awards stage and proclaimed Beyoncé to be the best artist of all time.
Clearly, Taylor doesn't agree, and was quick to set the record straight (albeit gracefully) on arguably the largest stage the music world has to offer. One can only guess how Taylor's acceptance speech and obvious shade-throwing slight made Kanye feel. But because Kanye's been on a tweeting binge lately, here's guessing he'll likely have a response soon, and put our shameless curiosities to rest.
While Taylor's acceptance speech was the first time the artist had publicly commented on Kanye's accusations (albeit somewhat backhandedly), her publicists did address West's claim that Taylor gave him the "go-ahead" to wrap about her in a clearly misogynistic, highly offensive way. According to BuzzFeed, the full, released statement read:
Kanye did not call for approval, but to ask Taylor to release his single "Famous" on her Twitter account. She declined and cautioned him about releasing a song with such a strong misogynistic message. Taylor was never made aware of the actual lyric, 'I made that b*tch famous.'
The T-Swift/Yeezy feud is nothing new, but was (at least, we thought) put to bed after Kanye was awarded the MTV Vanguard last year. The two took the MTV stage together, hugging aftef their performance and seemingly the best of buds.
Then, well, this happened after the release of Kanye's new album The Life of Pablo:
And just like that, any work the two did to burry the hatchet was undone in a matter of seconds with a few ill-advised tweets. The ball was clearly in Taylor's court, and while she could have ignored the Twitter rant, she chose to make her side of the story known at the most opportune time: at the Grammys. While on stage. Accepting Album of the Year award. An award that she's won twice. An award she's made history winning. Well played, T-Swift. Well played.
The subtle Kanye-diss wasn't lost on Grammy viewers around the world, either, as many took to Twitter to point out Swifts encrypted message. Here are just a few reactions:
Your move, Kanye.