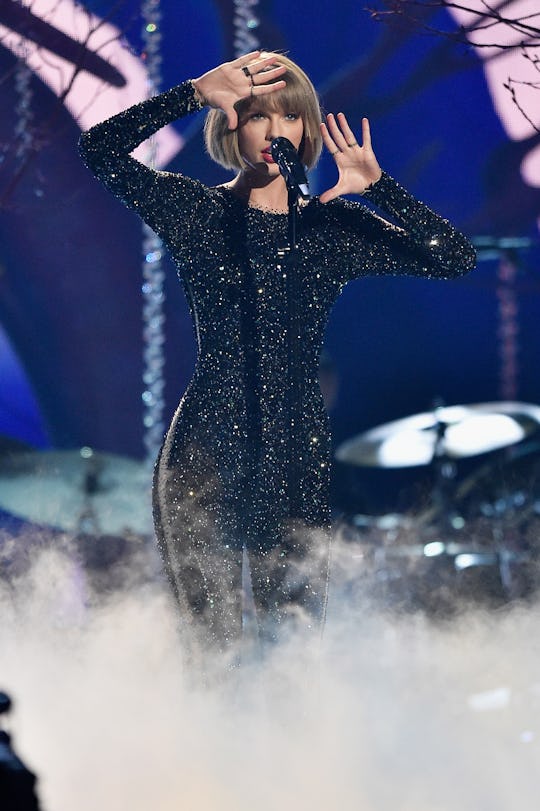 Kevork Djansezian/Getty Images for NARAS
Taylor Swift's Grammys Performance Was Amazing, Because Of Course It Was
2015 was definitely the Year of Taylor, but judging by her opening performance for the 58th Annual Grammy Awards, you could argue that Taylor Swift is winning 2016, too. Taylor Swift's 2016 Grammys performance was amazing, which comes as a surprise to nobody after the 1989 World Tour grossed $86 million and featured myriad surprise guests, from Justin Timberlake to Lisa Kudrow to her famous supermodel squad. She wore a sparkling jumpsuit and debuted her new, shorter hairstyle — and, of course, rocked it all.
For the performance, Swift chose to perform "Out of the Woods." Ahead of the Grammys, executive producer Ken Ehrlich wouldn't reveal what song Swift would perform, but promised it would be good — a prediction that she definitely lived up to. "She is gonna blow it out and it's gonna rock the house," he told ABC Radio. Three years ago, she performed "We Are Never Ever Getting Back Together" as the Grammy opener, so things could really only go uphill from there (sorry, folks, I love T-Swift, but that song was never a favorite).
The 26-year-old Swift is nominated for seven Grammys, which stands as a testament to her wild success in 2015. "Bad Blood" was up for Best Music Video and Best Pop Duo/Group Performance; "Blank Space" has been nominated for Song of the Year, Record of the Year, and Best Pop Solo Performance; and 1989, as a whole, was up for Best Pop Vocal Album and Album of the Year. If she somehow manages to snag all seven, she'd be doubling her current Grammy collection (she's been collecting them since 2009, folks).
Update: Swift walked away with Best Music Video for "Bad Blood" and Album of the Year for 1989.
Swift attended along with longstanding friend and fellow singer Selena Gomez, and the girls were seated just steps away from Fun guitarist Jack Antonoff and Swift's co-queen-of-the-world, Beyoncé. The Grammys released an Instagram picture of the seating arrangement, leaving a mysterious chair open next to Swift's. We haven't seen a flash of who's there, but could it be Scottish DJ Calvin Harris?
Taylor Swift and boyfriend Calvin Harris have been rumored to be collaborating on a song for a while now, which of course had people wondering if they would use the Grammys to debut a joint song. Sorry, world, but it didn't happen. Not that anyone can really complain about Swift's "Out of the Woods" performance.
What's next for Swift after the Grammys? "What I'm looking forward to in 2016 is not knowing what's next," she told People last year. "I've always planned my career a year or two in advance, and I refused to do that this time. 1989 was such a huge chapter in my life and career, and it's an exciting thought to let the story write itself now for a while."
That just sounds like more Swift surprises to me. And I'm totally OK with that.