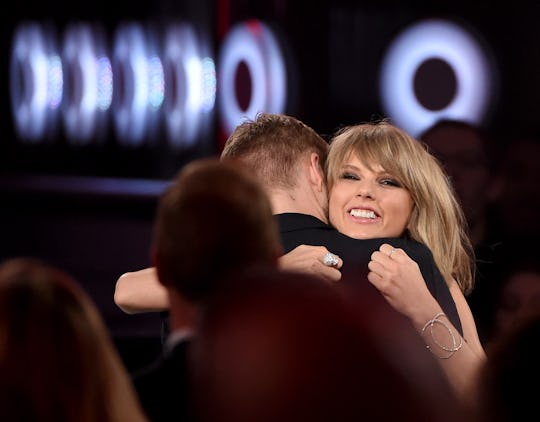 Ethan Miller/Getty Images
Will Taylor Swift & Calvin Harris Release Music Together? They've Been Secretly Working Together For A While
While the music world prepares for the 2016 Grammy Awards on Feb. 15, the rest of the world is wondering, "Will Taylor Swift and Calvin Harris release music together?" Swift is scheduled to kick off the award show, but it's safe to assume that her performance will come second to our collective hope that her and boyfriend Harris will write and perform a track (or seven, but I'm no music producer) together. And soon.
There have been multiple rumors and hints that the couple have been musically collaborating, but this is Hollywood, people; Nothing is certain. In July of 2015, The Mirror reported that Calvin and Swift were "jamming in the studio" and had been working on music together "since they started dating." So, um, where is the music, you two? I mean, honestly, how long does it take to write, record and produce a No. 1 hit, you guys?! Sure, I've never stepped foot in a recording studio and clearly have no idea what I'm talking about but seriously, could you hurry it up? It can't be that hard.
Perhaps Calvin's past is holding the superstar DJ back from fully committing to a musical project with Swift. Harris has recorded music with girlfriends in the past, most recently Rita Ora and their hit song, "I Will Never Let You Down." According to MTV, things got weird between Ora and Harris when the song was eventually released, so it wouldn't be too farfetched to assume that Harris doesn't want to chance the possibility of putting himself in a similar situation. Some relationships are only temporary, but a duet with an ex is forever.
And then, there's a report from HollywoodLife.com, citing some cohabitation hesitation on the part of T-Swift. Even after an intruder tried to break into Swift's Beverly Hills home, and Harris offered to have her move in with him so he could "protect her", Swift is hesitant to make the jump and live with her boyfriend. If the couple doesn't feel ready to commit by way of shared living situation, maybe a musical collaboration is a bit of a stretch.
Or, maybe it's as simple as Swift just wanting to leave the jam sessions for her friends, and the more intimate, behind-the-scenes, never-to-be-played-on-public-radio moments for her significant other. Taylor's squad is a famous (or infamous, depending on how you look at it) one, so I wouldn't be surprised if she has all-female collaborations on the brain. She could easily release a sure-to-be hit with the likes of Selena Gomez or Lorde or Ellie Goulding.
Either way, despite the rumors of a collaboration or the possible hesitation by both parties, the world is (clearly) ready for a Swift-Harris duet. Maybe at the 2017 Grammy Awards? Eh? Eh?!