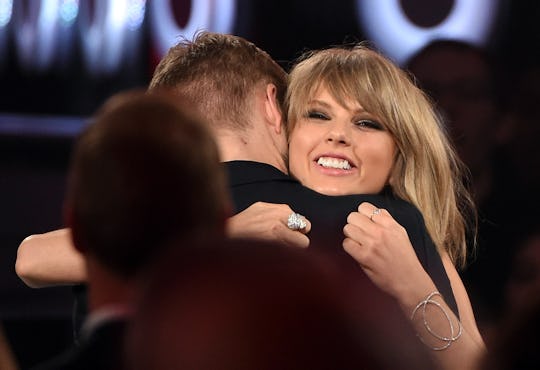 Ethan Miller/Getty Images
Will Taylor Swift & Calvin Harris Get Engaged? They Haven't Said Much About Their Relationship
With the Grammys fast approaching, there's so much to speculate on: Will Kanye be there? Why haven't they just given all of the awards to Beyoncé yet? If we can't have Beyoncé, can we at least have Adele? Will Taylor Swift and boyfriend Calvin Harris show up at the show together? Will Taylor mention him in her winning speech? And because award shows bring with them their own swirl of speculation for the couple, some Swifties might be wondering, will Calvin Harris and Taylor Swift get engaged? The 16-time Grammy winner and her four-time winning partner are notoriously quiet about their relationship, which leaves tons up in the air to speculate about.
In fact, because so little is known about the celebrity twosome, many even wonder how Taylor Swift and Calvin Harris met. The "Bad Blood" singer and Harris reportedly met at the Brit Awards in 2015, a source told E! Online. Though the artists have been quick to dispel the more serious rumors (like the rumor that said Swift and Harris were living together), they've been pretty coy about letting fans' minds wander when it comes to the in between. That said, just how are serious is Taylvin (yes, I will crawl back into my shame hole now) relationship?
A source reportedly close to the couple spoke to E! Online and said that, "They are definitely talking about their future together and the possibility of one day getting engaged." Thing is, I'm definitely talking about what I'm going to have for brunch on Sunday and I can guarantee I'll change my mind 16 times between now and then. So who's to say what Swift and Harris are or aren't seriously discussing within their relationship? And who's to say that we're even remotely privy to that information?
Over the holidays, the insider told E! Online that Taylvin (I am owning my shame) spent Christmas with her family in Colorado:
They were in Colorado for Christmas together with Taylor's family. It was all about being in the snow, snow ball fights, lounging by the fire and relaxing. After Christmas they came back to LA together and rang in the New Year.
Even though it seems like the holiday season and the New Year celebration have been incredibly good to and for the couple, that's absolutely no reason to speculate on whether or not they're even at the point where they're discussing something as serious as marriage. Plus, implying that they're talking about engagement assumes that Swift and Harris both want that, and I don't know about you guys, but I remember what we're told about assumptions.
However, here's what we can assume: Instead of wondering whether or not she's getting a diamond, chances are Swift is gearing up for the show, her potential wins (she was nominated for seven Grammys), and focusing on her top-secret performance (she's been infamously mum on details). If she wins in all seven categories, she'll have earned 23 Grammys to date. I'd say that's enough bling for the year, don't you?