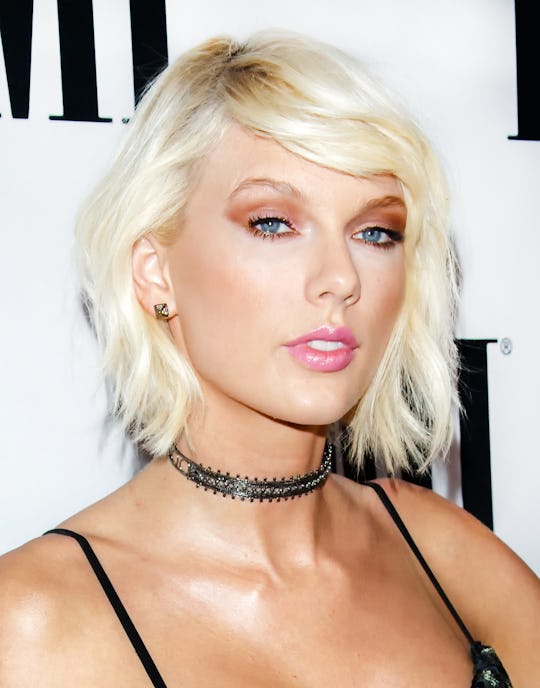 Mark Davis/Getty Images Entertainment/Getty Images
Taylor Swift's Poem About Her Long Absence Explained
Here's a message for you guys; don't cross Taylor Swift. Like, ever. She really doesn't like it, at all. And she's a pretty good writer, who does her best work when she's feeling downtrodden. In the hours after her revenge/love album Reputation was dropped, Swift released a poem explaining her long absence from the spotlight. And, as ever, it's chock full of shade for all the people she figures threw shade her way, and therefore are asking for it.
Swift seemingly dropped off the face of the (social media) earth at the end of 2016, after months of struggling to stay ahead of bad press, associated in no small part with her ongoing feud with Kanye West and Kim Kardashian. The "Bad Blood" singer also spent 2016 going through two very public break-ups; first with DJ Calvin Harris and then with Thor actor Tom Hiddleston. Now it's nearly the end of 2017, and boy have things changed. Swift is back with a critically-acclaimed album, Reputation, and has also released two special-edition magazines in collaboration with Target that feature handwritten lyrics by the singer herself, photographs, and poetry. One poem especially, called "Why She Disappeared," should be of special interest to Swifties wondering... why she disappeared.
The poem reads:
When she fell, she fell apart
Cracked her bones on the pavement she once decorated
as a child with sidewalk chalk
When she crashed, her clothes disintegrated and blew away
with the winds that took all of her fair-weather friends
When she looked around, her skin was spattered with ink
forming the words of a thousand voices,
Echoes she heard even in her sleep:
"Whatever you say, it is not right."
"Whatever you do, it is not enough."
"Your kindness is fake."
"Your pain is manipulative."
When she lay there on the ground,
She dreamed of time machines and revenge
and a love that was really something,
Not just the idea of something.
In the first stanza alone, Swift seems to swipe at the "fair-weather friends" (formerly known as her squad) she clearly feels didn't do anything to help when her reputation was tarnished last year by the controversy over her infamous phone call with Kanye West. In the phone call, she appeared to approve West's questionable lyrics about her for his song "Famous," which Swift had publicly taken umbrage against as being sexist earlier. Some members of the squad, including Kendall Jenner, who is West's sister-in-law, appeared to turn their backs on Swift. And I guess she wasn't too happy about it.
She also seems to refer to her alleged new love, British actor Joe Alwyn, who is a "love that was really something." As opposed to one of her former boyfriends, either Harris or Hiddleston, who were just the "idea" of something. My money is on Harris, simply because Hiddleswift was so short-lived; really just one summer.
Swift's poem continued with the lines:
When she finally rose, she rose slowly
Avoiding old haunts and sidestepping shiny pennies
Wary of phone calls and promises,
Charmers, dandies and get-love-quick-schemes
When she stood, she stood with a desolate knowingness
Waded out into the dark, wild ocean up to her neck
Bathed in her brokenness
Said a prayer of gratitude for each chink in the armor
she never knew she needed
Standing broad-shouldered next to her
was a love that was really something,
not just the idea of something.
When she turned to go home,
She heard the echoes of new words
"May your heart remain breakable"
There is an allusion to being wary of phone calls, which is obviously about the whole "Famous" episode, and Alwyn seems to get another shout-out about being "broad-shouldered" and worthy of her love.
So here it is in a nutshell, folks; Swift had a year of introspection. She was mad at a bunch of people, and she wrote a bunch of songs. She also fell in love and now has an album and millions of people buying said album.
All's well that ends well.