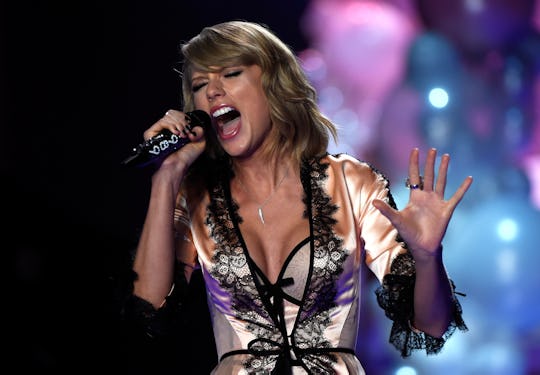 Pascal Le Segretain/Getty Images Entertainment/Getty Images
Taylor Swift's Use Of "Baby" In 'Reputation' May Reveal A Huge Clue About The Album
Taylor Swift is in love. With her new album, Reputation, that much is clear. Sure, the album boasts many complex lyrics and references, but it's so obvious that Swift is in a happy relationship right now. In fact, Taylor Swift's use of "baby" in Reputation may reveal a huge clue about the album. And, no, it's not a pregnancy or an engagement announcement. It's not really an announcement at all, except that maybe, just maybe, Swift has found her true love, and she wants to distinguish him from all the others in her past.
Because, as it turns out, pretty much every happy, relationship-centered song on Reputation features Swift referring to her "baby" (or, once, her "babe"). On the flip side, any breakup-esque tune is noticeably absent of any "baby" or "babe." Basically, if Swift sings "baby" — I theorize — she means her current boyfriend, British actor Joe Alwyn. And while this may not seem like much, it could be a very strategic move from Swift in differentiating between her past loves and her current one.
As Swifties will know, Alwyn has been hailed as Swift's best relationship to date, and fans and friends alike are all rooting for them to stay together.
And truly, if this theory is correct, and every "baby" is pointed at Alwyn, then it's worth delving into what songs feature that precise word. So, let's dive right in.
It Starts With The First Song On The Album
The first track on Reputation asks a seemingly simple question, if the listener is ...ready for it. But, for a while, fans weren't sure who the song was about. The line "Younger than my exes" certainly points to Alwyn, who is 26 years old, compared to Swift's recent exes, 33-year-old Calvin Harris and 36-year-old Tom Hiddleston. But with island imagery, fans couldn't help but recall Swift's well-documented trip with Harris to a magical beach for their anniversary.
However, in the chorus of "...Ready For It?" Swift sings, "In the middle of the night, in my dreams/ You should see the things we do, baby." So, the Alwyn theory sticks, and so does the "baby" idea, as Reputation's first track is certainly not a breakup song.
Can You Blame Her?
The fourth song off of Swift's new album, "Don't Blame Me," is already being heralded as a legitimate bop, and for good reason. In it, Swift melodically sings that "love made me crazy," and says a prayer, too, admitting "my drug is my baby/ I'll be usin' for the rest of my life."
So, again, Swift's album has given listeners an obvious love song about her "baby." Now, I know I tend to read too much into things, but don't you think that maybe it's the one specific baby she's talking about? Maybe even a certain young actor with a baby face? Still not convinced? Keep reading.
Is There A Difference Between "Baby" & "Babe"?
In "Delicate," Swift sings of a new relationship with someone who she met while she was also dealing with a lot of drama. "My reputation's never been worse, so/ You must like me for me," she sings in the fifth track. Now, while Swift doesn't say "baby" in this song, she does, refer to the gentleman in the song as "babe," which is basically the same thing, right?
"We can't make/ Any promises now, can we, babe?" Swift wonders out loud. It isn't clear whether this song is about Alwyn, but the line "Do the girls back home touch you like I do?" seems to point to someone who isn't from the United States — like Alwyn. Then again, Hiddleston is also English, so the song could very well be about him. And, as Swift only refers to this particular love interest as "babe," and not "baby," it could totally be about Hiddleston.
Swift Gets (Even More) Personal
While many have hailed "Dress" to be the most scandalous track of Reputation, "So It Goes..." is arguably just as sultry. "You know I'm not a bad girl, but I/ Do bad things with you," Swift sings on the track, which is fairly void of any precise details that could give away who it's about.
Except, there's that word again. In the pre-chorus, Swift sings, "'Cause baby, I know what you know/ We can feel it," perhaps alluding to Alwyn yet again.
There's A King To Swift's Queen
While there are quite a few romantic songs on Reputation, "King Of My Heart" is definitely the most upbeat of the love songs. And while there are many hints that the song is about Alwyn, the fact that Swift (again) is singing "baby," is a huge hint in and of itself. "We met a few weeks ago/ Now you try on callin' me Baby, like tryin' on clothes," she croons.
Yeah, there's the "baby" again. And "King Of My Heart" is certainly about Alwyn, as Swift also sings, "I'm your American Queen," likely in contrast to Alwyn's British upbringing.
Another little hint that this song is about Joe lies in the line "Cause all the boys and their expensive cars/ With their Range Rovers and their Jaguars/ Never took me quite where you do." Why? Well, two of Swift's exes, Harris and Hiddleston, have been spotted driving with the pop star in those exact car models.
Yeah, she went there.
She Just Wants Nice Things, OK?
While the thirteenth track on Swift's new album — "This Is Why We Can't Have Nice Things" — is mainly a diss track, it also features a literal shoutout to some of her favorite people. "And here's to my baby/ He ain't reading what they call me lately," Swift sings during the bridge, clearly thanking Alwyn for not caring about Swift's feud with Kanye West and others.
I'm Calling It A(nother) Love Song
Swift may have released the second-to-last song off her new album days ago, but the heartfelt lyrics are still sinking in, to be honest. "Call It What You Want" is a definite nod to Alwyn, and Swift uses "baby" more than once in the song. "'Cause, my baby's fit like a daydream/ Walking with his head down/ I'm the one he's walking to," she sings in the chorus, continuing, "My baby's fly like a jet stream." And it's not just the two "baby" references that point to Alwyn.
When Swift sings that he's "fit like a daydream," she doesn't mean that Alwyn is in shape (although, duh, he probably is). "Fit" is actually British slang for someone being attractive. So, yeah, she also managed to give a little recognition to her rumored boyfriend's roots.
And, Finally, She's Ready For New Beginnings With Him
One of the most emotionally-charged and lyrically poignant songs on Reputation is also the last track of the album. In "New Year's Day," Swift sings of new beginnings, and staying with someone though the good times and the bad. "I'll be there if you're the toast of the town, babe/ Or if you strike out and you're crawling home," she sings. And while, again, it's "babe" and not "baby," it's pretty obvious this love song is also dedicated to her new beau.
Obviously, while Reputation does well to show Swift's darker, edgier side, it doesn't leave her romantic self out in the dark. The new album embraces all of the many sides to Swift, and that includes her "baby" and their love.
Check out Romper's new video series, Romper's Doula Diaries:
Watch full episodes of Romper's Doula Diaries on Facebook Watch.