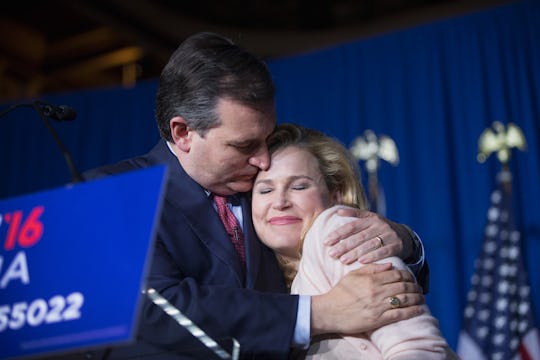 Scott Olson/Getty Images News/Getty Images
Ted Cruz Defends His Wife After Being Booed Offstage & The RNC Just Got Even More Wild
The big news of the day on Wednesday at the Republican National Convention was Texas Sen. Ted Cruz. The recent GOP presidential hopeful spoke on Wednesday at the RNC, and made it clear he was not quite ready to go gentle into that good night. While Sen. Cruz congratulated the Republican presidential candidate, New York businessman Donald Trump, on winning the official candidacy, he did not actually endorse him for president. Which sent Trump supporters into a downward tailspin of booing and verbal attacks, especially against Cruz's wife Heidi. Not one to back down, Ted Cruz defended his wife after being booed offstage and the situation got even more surreal.
Cruz urged voters to "vote their conscience" in November and refused to endorse Trump as the next POTUS (or even say that he, himself, would be voting for him), a move to unite the party he had vowed he would undertake during a debate earlier in the year. Trump fans were furious at this apparent sign of dissent, and booed the senator offstage, while his wife was escorted out of the RNC by security to taunts of "Goldman Sachs!" followed Cruz's wife, Heidi (Heidi Cruz works for Goldman Sachs). So why exactly didn't Cruz support Trump at the RNC? According to Cruz, he is not a "servile puppy dog", and his memory of the many, many insults thrown not only at him but at his wife, remains crystal clear.
While Cruz freely admitted that he had pledged to support the Republican nominee, he noted:
The day that was abdicated was the day this became personal. I'm not going to get into criticizing or attacking Donald Trump, but I'll give you this response: I am not in the habit of supporting people who attack my wife and attack my father.
... That pledge was not a blanket commitment that if you go and slander and attack Heidi, I'm going to nonetheless come like a servile puppy dog and say thank you very much for maligning my wife and my father.
The rivalry between the two competitors is well documented. Both the Cruz and Trump camps were guilty of over-the-top mud-slinging. Trump rather famously shared an unflattering picture of Heidi Cruz on his Twitter account beside his own wife, ex-model Melania Trump, to prove... no one really knows what, exactly.
After Trump attacked his wife, Ted Cruz lost his cool and referred to Trump as a "sniveling coward." Trump went on to gleefully accuse Cruz of infidelity and Cruz' father of being involved with the assassination of JFK.
So is Cruz genuinely simply a man defending his wife's honor, or is he looking at playing the long game? After all, former President Ronald Reagan gave an amazingly rousing speech at the 1976 Republican National Convention that opened the door to the White House for him in 1980.
Could Cruz be looking towards 2020? Only time will tell.