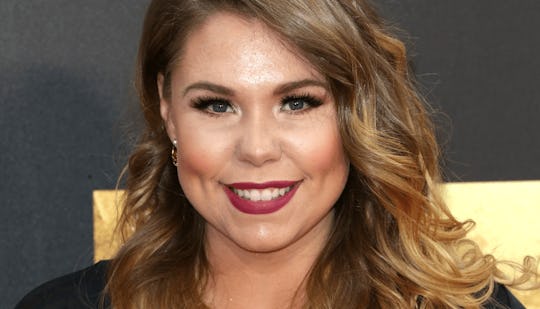 Frederick M. Brown/Getty Images
'Teen Mom 2's Kailyn Lowry Posts Her First Family Photo With Baby Lo
There's nothing quite like morning snuggles in bed with your kids. For Teen Mom 2's Kailyn Lowry, her first family photo with Baby Lo shows that she is absolutely loving her life as the mom of boys right now. Lowry posted the sweet first family pic to her Instagram on Monday, as the 25-year-old was cuddled in bed with her three boys: 7-year-old Isaac Elliot, 3-year-old Lincoln Marshall, and 3-week-old "Baby Lo." Lowry has yet to announce her newborn son's name, because, as she she told Radar Online, they just didn't have one yet when he was born.
Previously, Lowry shared some photos of Baby Lo since he was born: Some adorable photos of her and Baby Lo, as well as Baby Lo with his big brothers — but Monday marked the first photos to feature the proud mama with all three of her boys in the same frame. As a mom of just one boy, I know how hard it can be to wrangle one son for a family photo — I can't imagine trying to herd three at once. It's clear from Lowry's Instagram she had a little help, as she and her family are snuggled up in bed, surrounded by a full professional photo and video team.
Lowry has had quite the year: She released a motivational non-fiction book, Hustle and Heart in November and kept an aggressive book tour. In May, Lowry graduated from Delaware State University with her bachelor's degree in mass communications. It was a huge accomplishment that's taken her six years to complete, between having her first child and being pregnant with her third. Baby Lo was born just two months after her graduation, and his birth took Lowry by surprise because of how fast he was actually born — even Lowry's doctor didn't make it in time, according to InTouch Weekly.
Thankfully for fans of the Teen Mom 2 star, Lowry didn't just leave them hanging with the tease of a full family photo: She posted part two of her family photo session on Tuesday, with Lowry and her two oldest sons smiling right at the camera while Baby Lo took a snooze on his mom's chest.
Lowry is definitely beaming in that photo, and I don't blame her: She's been through so much to have the family that she does now, and she's worked hard to be successful. I'm sure she'll be just as proud — and probably a little relieved, too — when she settles on a name for the newest member of her family.