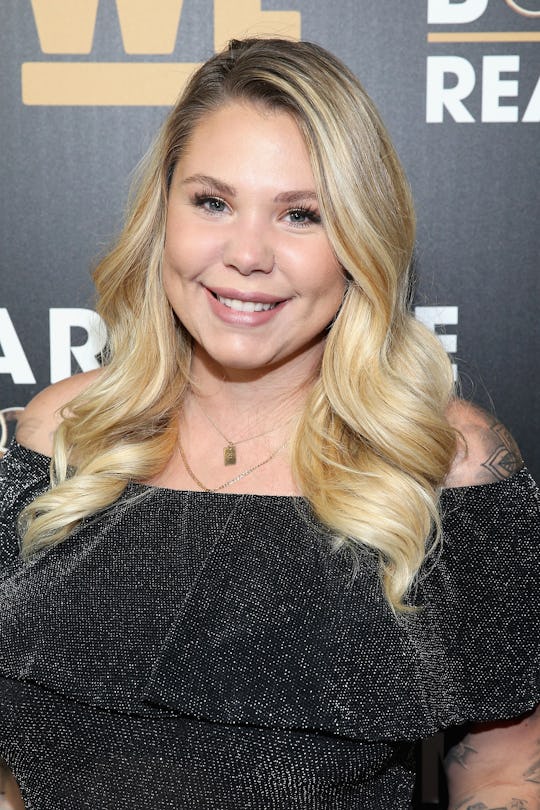 Bennett Raglin/Getty Images Entertainment/Getty Images
'Teen Mom 2's Kailyn Lowry Wants "One More" Kid & She's Building Her Family On Her Own Terms
It's not easy to become a mom before you've even reached adulthood, but when reality TV cameras are there to capture all the highs and lows? It usually means dealing with plenty of public criticism. And while she may have become an even bigger magnet for backlash after having two more children with two different partners, Teen Mom 2's Kailyn Lowry says she wants "one more" kid, according to E! News. This time though, she's not exactly interested in looking for another co-parent.
It's been eight years now since Lowry gave birth to her son, Isaac, with her boyfriend, Jo Rivera, and now she's also mom to 4-year-old Lincoln, with ex-husband Javi Marroquin, and 9-month-old Lux, with Chris Lopez, according to People. In other words, Lowry has her hands full, but in an interview with her Teen Mom 2 co-star, Chelsea Houska, for her podcast, Coffee Convos with Kail Lowry and Lindsie Chrisley, the 26-year-old admitted that she didn't quite feel that her family was complete. Lowry told Houska — who has also been upfront about her desire for a large family with her husband Cole DeBoer — that she still wanted to have another baby, according to E! News, and joked, that when Houska and DeBoer were ready to have another baby as well, she'd "go to the sperm bank" so that they could "get pregnant together at the same time."
Given that Houska is actually currently pregnant with her third child, it's safe to say that they likely won't be sharing any joint pregnancy announcements with the world anytime soon. But while Lowry doesn't necessarily appear to be entirely ready to start the process of getting pregnant through insemination, she did reveal that she had at least begun looking into it. According to E! News, Lowry said:
I already started looking at the banks. You have to have a minimum of a bachelor's degree. You can pick. [I'd look for] tall, dark and handsome. Maybe a PhD. I think we should do a Teen Mom 2 crossover for the next season where Chelsea comes with me to help pick out a sperm donor profile.
Though the idea of being a single mom of four kids might seem daunting, for Lowry, it seems like a much preferable option than trying to find a stable relationship. In an interview with Radar Online, Lowry explained that the struggles she's faced with men in the past have brought her to a point where, while she does still want to have more children, she's more than happy raising them without a man. When asked about her desire to have more children, Lowry told the outlet:
More kids, yes. But more dads? No. No more baby daddies! The sperm bank thing would be a different scenario because [there] wouldn't be a dad involved.
Lowry, of course, is well aware that not everyone is supportive of her choice: on her podcast, she said that, even though people might think it's "crazy" that she would want more kids when she "[has] three kids by three people," the truth is that she's just not done yet. And honestly? Whether or not you agree with her choice, it's admirable that she's not letting her relationship history influence what she feels is best for her and her family.
It might be easy to look at someone like Lowry and cast judgment, but in reality, there are all sorts of ways to become a family, and finding the perfect mate doesn't have to hold anyone back from realizing their parenthood dreams. What's more is that, not only is Lowry's desire for another child very real and totally valid, it's also no one else's business. And while her public persona does open her up to more criticism than the average mom, it still doesn't give anyone the right to tell her what she should do, or how she should feel about expanding her family.
While Lowry doesn't sound ready to commit to a fourth child just yet, it does seem like a pregnancy announcement might be coming in the not-so-distant future. And if and when it does, she deserves to be congratulated for it, just like every mom-to-be deserves, regardless of the circumstances surrounding the pregnancy. From the sounds of it though, Lowry has already had a lot of experience overcoming adversity and handling criticism over her choices, so something tells me when she is ready to have another child, she won't let other people's opinions get in the way.