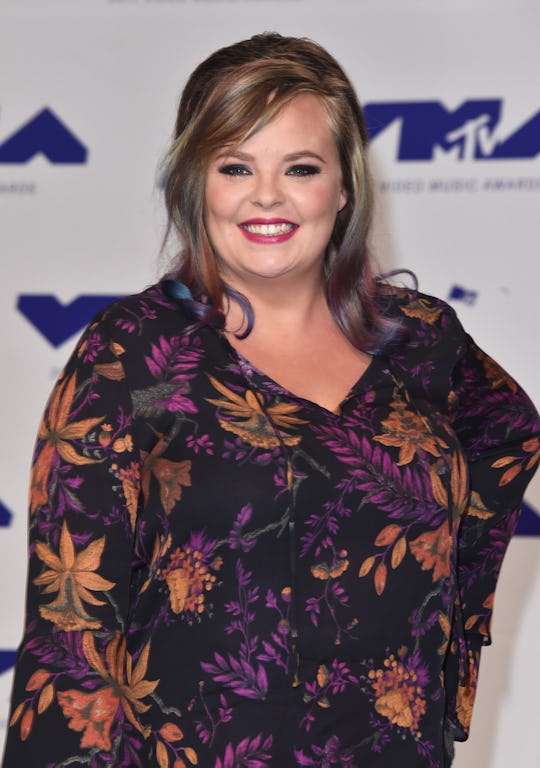 Alberto E. Rodriguez/Getty Images Entertainment/Getty Images
Catelynn Lowell Got Real About Why She Was Afraid To Go Back To Rehab, & Her Honesty Is Powerful
It's an understatement to say that there is nothing easy about living with mental illness, but when you're also a parent, the guilt, shame, and fear can feel especially overwhelming. The fact that it's rarely something that people discuss openly only makes things worse, but on this season of Teen Mom OG, viewers are getting the chance to see the real impact untreated mental illness can have on families, and it's so necessary. A video sneak peak of the upcoming season finale released Monday revealed that Teen Mom OG's Catelynn Lowell worried Tyler Baltierra would divorce her if she went to treatment again, according to In Touch Weekly, and the emotional clip highlights a reality that isn't discussed nearly enough. Because even though Baltierra clearly loves and supports his wife in any way he can, and even though they've both spoken out against the stigma that prevents people from getting much-needed help, Lowell was still afraid to admit just how much she was struggling. And, sadly, she's definitely not the only mom whose ever felt that way.
Lowell and Baltierra have certainly experienced their fair share of ups and downs since they first appeared on the first season of MTV's 16 and Pregnant in 2009, as a young couple from Michigan preparing to give their daughter up for adoption. In January 2015, the now-married couple welcomed another daughter, Novalee, but Lowell struggled with postpartum depression after the birth, according to People, and in March 2016, Lowell announced she was entering into a treatment facility to get help.
That was a brave and wise decision, and things seemed to be looking up for the couple, who found out they were expecting again later that year. In November though, Lowell miscarried, and after experiencing suicidal thoughts, she returned to treatment soon after. She briefly returned home in December, before returning to treatment for a third time a little over two weeks later, according to E! News, and though Lowell made the announcement in real time over social media, Monday's season finale will show what it was really like for the couple during their short reunion.
In the clip, an emotional Lowell revealed the truth to Baltierra: that although she'd technically returned home from treatment, she was still having a really hard time, and she needed to go back. She explained,
I started having really bad anxiety in the mornings. I guess I'm just kind of hiding it. Or I'll take a half an Ativan or something, just to make it through the first morning, or half the day ... Obviously my meds aren't working. I had to force myself to get in the shower, and put makeup on.
Lowell also admitted that she felt she was "letting people down," and that she felt really guilty for struggling — and though Baltierra assured her she didn't at all have to feel that way, she admitted she'd been keeping it from him because she was afraid she'd lose him:
I didn't even want to tell you that I thought about going back to treatment, because I was like, I wouldn't blame Tyler seriously, if you wanted to just divorce me.
Though the clip ended before Baltierra could respond, it wouldn't be a stretch to assume that he was just as supportive as always, especially since Lowell has since shared that she's returned home and is doing well — and that they are both looking forward to having more children together eventually. But Lowell's heartbreaking admission about her fear that Baltierra would leave her is so important, not because it says anything about the strength of their relationship, but because of what it says about the danger of mental illness.
Not everyone suffering from depression or anxiety worries that their partner will leave them, but if you've struggled from mental illness, then it's probably not surprising to consider that it can often convince people of things that aren't even sort of true. Lowell, for example, was afraid Baltierra might divorce her despite appearing to have no actual evidence to support it. Yet when you're struggling, these unfounded fears feel completely real — and they can be a huge barrier to accessing help that can be literally life-saving.
An estimated 15 percent of all new moms will, like Lowell, suffer from postpartum depression (PPD) after they give birth, according to The National Institute of Mental Health, and although not everyone needs to go to treatment (Lowell has also suffered childhood trauma, and was diagnosed with PTSD), many do need some kind of professional help to recover completely. Yet PPD often goes untreated — or undiagnosed entirely. One reason? As Karen Kleiman, founder and director of the Postpartum Stress Center in Pennsylvania and New Jersey, explained to The Huffington Post in 2014,
[What] keeps moms from seeking help ... [is] this feeling of, 'I'm so ashamed and uncomfortable.' Women are still afraid to talk about what they're feeling, and providers are still not asking the right questions.
In other words, many moms who are struggling feel just like Lowell: they're afraid to tell their partners or loved ones or doctors what's happening, so they force themselves to get up and shower and make it look like they're coping, even though they're suffering on the inside. And even though effective treatment options really do exist, the fear and stigma keeps them stuck inside their own pain.
That's one reason, though, why Lowell's willingness to share her story openly is so incredibly valuable. While it must have been extremely difficult (it's even difficult to watch, honestly), it shows the reality of what living with depression and anxiety and PTSD can really look like, and chances are there will be many viewers who will recognize themselves in Lowell's example. And since it's easy to watch the episode and see that Lowell doesn't have any reason to feel so guilty or ashamed, and that Baltierra hasn't actually shown any indication that he wouldn't be supportive, it also provides a really clear example of how distorted depressed thinking can really be.
As much as Lowell and Baltierra likely wish they didn't actually have to go through everything they've endured over the past couple of years, it at least now seems like the worst of it is behind them. In sharing it, though, they've taken a big step toward pushing back against mental illness stigma, and that makes a big difference.
Check out Romper's new video series, Bearing The Motherload, where disagreeing parents from different sides of an issue sit down with a mediator and talk about how to support (and not judge) each other's parenting perspectives. New episodes air Mondays on Facebook.