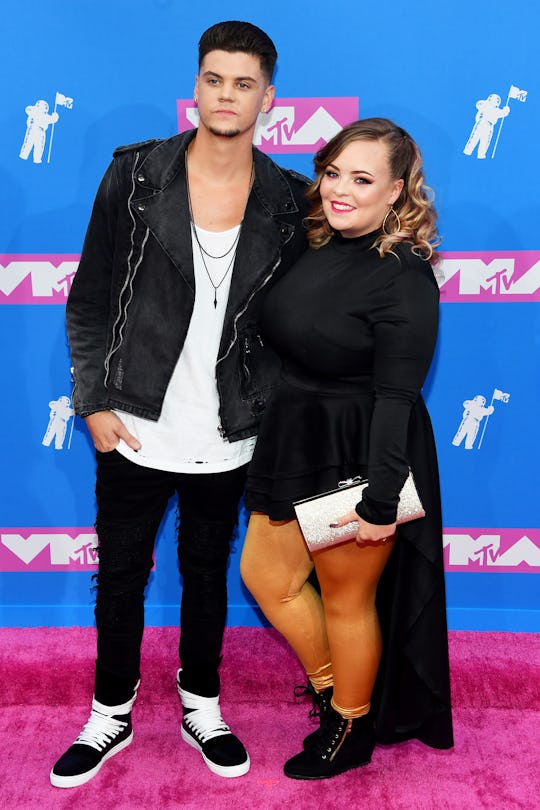 Nicholas Hunt/Getty Images Entertainment/Getty Images
MTV's Catelynn Lowell Has A Powerful Message About Pregnancy & Mental Illness
After suffering a miscarriage in late 2017, Catelynn Lowell and Tyler Baltierra recently surprised fans with the news that they are actually expecting a baby together. The little one will be Lowell and Baltierra's third child — after placing their first daughter, Carly, up for adoption in 2009, they welcomed their 3-year-old daughter, Novalee, in 2015 — and though the pregnancy has been incredibly welcome news, it's also come after Lowell was admitted to treatment multiple times to deal with depression and suicidal thoughts. In an exclusive interview with Us Weekly Monday though, Teen Mom OG's Catelynn Lowell said mental illness shouldn't keep her from pregnancy and motherhood, and her stigma-fighting message is one that all women deserve to hear.
Though mental illness is incredibly common — around 1 in 5 adults in the United States deal with mental health issues, according to the National Alliance on Mental Illness (NAMI) — the fear of being judged or treated differently often leaves people reluctant to admit that they're suffering. But nearly a decade after she first debuted on reality TV as a pregnant Michigan teen, Lowell is continuing to open up about her life, and these days, that includes her battle with depression, anxiety, and post-traumatic stress disorder (PTSD). Now that she's pregnant, though, Lowell's message is taking on perhaps even more significance than ever before, by emphasizing that mental health struggles shouldn't automatically prevent her — or anyone else — from wanting to have a baby.
Viewers have watched as Lowell and Baltierra have attempted to navigate their ups and downs over the years, including Lowell's battle with postpartum depression and anxiety following Nova's birth, according to People, and her subsequent decision to address those issues in treatment in Arizona. In March, Lowell and Baltierra sat down with fellow Teen Mom star Kailyn Lowry for an interview on her podcast, Coffee Convos, and at the time, Lowell explained that going to treatment had been *so* helpful, and that, in addition to learning that she'd been suffering from PTSD linked to childhood trauma, she was also finally able to find a medication regimen that worked for her.
From the sounds of her Us Weekly interview though, she continues to remain in a much healthier place than she once was. Lowell told the magazine that her latest pregnancy feels "completely different" in that she's no longer feelings anxious or depressed the way she had in the past. In fact, Lowell told Us Weekly that she's "actually in a really good mental state" — and honestly, that shouldn't really be a surprise.
Though reaching out for help like Lowell did is often seen as some kind of admission of defeat, the reality is that it's most often the beginning of finally feeling better. By going to treatment, Lowell was able to get professional help dealing with how she was feeling, and it sounds like the combination of therapy and medication has since helped her be the person she deserved to be all along — one who didn't have to carry the overwhelming burden of depression and trauma.
And, as far as Lowell is concerned, it really did seem to work out for the best. She explained,
As devastating as the miscarriage was, I really feel like I've worked with my counselor. I really believe in my heart that I was meant to have that miscarriage because I spiraled so hard that it forced me to go to a place where I really had to dig into my childhood traumas and things like that that I have not really dug in before. I really think that it was a push to really work harder on things that I really wasn't working on even though it was a sad and emotional thing. I really think that that baby was meant to leave so that way I was meant to really dig deeper on my wounds from my childhood.
In other words? Lowell isn't doing well *despite* having had a breakdown and going to treatment — she's doing well because of it. Having received help for her mental illness means she's so much more better equipped to handle her pregnancy and motherhood, and instead of being concerned or judging her, we should actually be commending her. What's more though is that Lowell's success isn't an anomaly: though mental health stigma often prevents people from getting help, the American Psychiatric Association has noted that "between 80 percent and 90 percent of people with depression will eventually respond well to treatment" if they get it, and that pretty much everyone can expect at least some relief in their symptoms by accessing help.
Given that Lowell has struggled so publicly, it makes sense that her fans and followers might be wondering about whether or not having another baby was the best idea. But it's clear that she's in a much better place now than she's perhaps ever been, and chances are, she'll be an even better mother because of it.