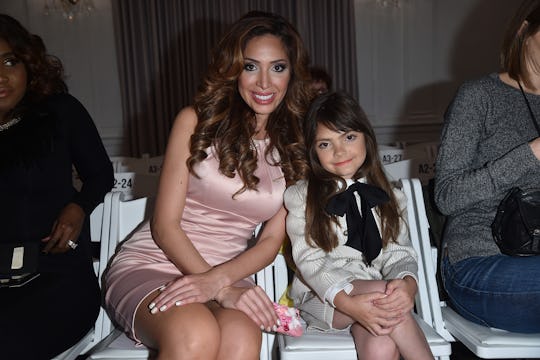 Jacopo Raule/Getty Images Entertainment/Getty Images
Farrah Abraham Reveals The Heartbreaking Reason Her Daughter Was Bullied In School
Farrah Abraham has not had an easy life. The Teen Mom OG star became pregnant when she was a teenager, and then the father of her baby died just one month before their daughter was born. It would be a lot for a fully grown adult to take on, but even tougher for a teenager. And next to impossible for an 8-year-old girl like Abraham's daughter, Sophia Laurent. What's more, Abraham recently revealed her daughter was bullied at school because she doesn't have a dad, and it really makes you wonder what kind of world we're living in.
Sophia's dad, Derek Underwood, died in a tragic car accident in 2008, a month before she was born. He was just 18 years old at the time. She never got the chance to meet him. The anniversary of his death is Dec. 28, and Abraham has often been known to share a picture of his grave site on Instagram with some tokens of affection and a few sweet words of remembrance. Not this year, unfortunately. This year, Abraham shared a lengthy, heartbreaking Instagram post about the struggles both she and Sophia have had since Derek died. Abraham shared a message beside a photo of Underwood's grave encircled in a Christmas wreath that began:
In loving remembrance to Derek Underwood, 12/28/2008 father, son, nephew, cousin, friend and so much more December 28th comes every year when we review all of our love, great memories, share stories and know how special Derek was and how all the special and highly favored charisma passed on to Sophia.
She continued her tribute to Underwood by sharing some sad information about Sophia:
This past year Sophia was bullied for not having a father at her old public school, I thought why would any child not understand that's out of ones control and no one would ask for that, in a world full of ignorance and wrong doing I'm happy to say my daughter knows her truth and has strength in that beyond the ignorance.
Any type of bullying is awful, of course, but to bully a child who never got to meet her father? It's atrocious. And fans were justifiably incensed on Sophia's behalf.
Instagram users posted messages of support to both mother and daughter:
He's always with you and your baby, mama. Love and lite to you and Sophia ❤️🙏🏼
Well said Farrah! God Bless you and Sophia, keep doing what you are doing! 🙏🏻😍🙏🏻
Farrah you are the best mom to Sophia I really admire you for all you do !!! I hope you have a happy new year
The reality star and entrepreneur has been open about her struggle to be a single mom of her daughter for the past eight years. In 2013 she told Bethanny Frankel on her talk show that she would have "probably married" Underwood if he had lived. And while the couple were reportedly estranged when he died, Abraham wrote in her book My Teenage Dream Ended that he was her "first love, only true love." Every year, Abraham takes Sophia to visit her father's grave site. Because no matter how difficult it might be for her to rehash those painful memories, she told OK! Magazine she believed it was "important" to help her daughter develop.
Sadly, Sophia does not yet have the wisdom of age to help her through. And being bullied for losing her father won't help. But she certainly has her mother on her side. Critics of Abraham will say what they will, but one thing is certain; she's not someone who will likely put up with anyone bullying her child.
Because Abraham herself probably knows a little something about bullying; one brief glance at the comment section of her Instagram feed would be enough to have most people crying their eyes out. Not Abraham. And, it seems, not her daughter. They're both built of sterner stuff than that.
Check out Romper's new video series, Romper's Doula Diaries:
Watch full episodes of Romper's Doula Diaries on Facebook Watch.