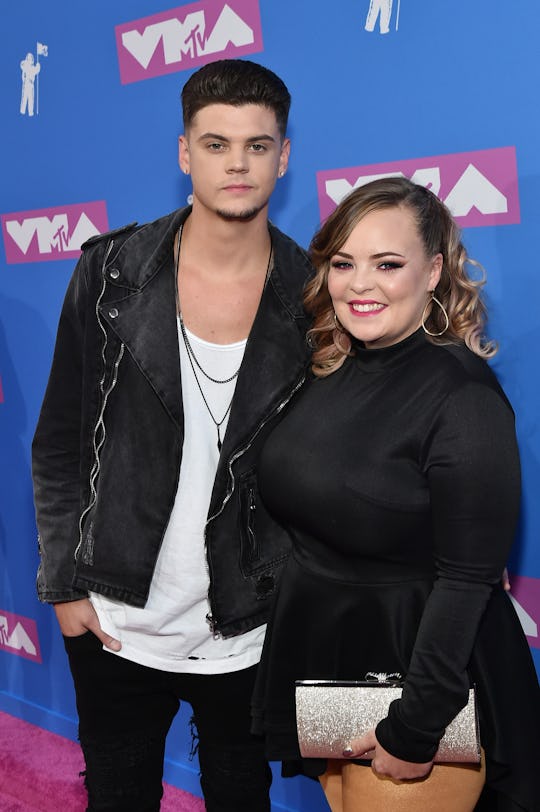 Mike Coppola/Getty Images Entertainment/Getty Images
Catelynn & Tyler From 'Teen Mom' Adorably Revealed Their Rainbow Baby's Sex
Catelynn Lowell and Tyler Baltierra have had a pretty rough go over the past few years. Everyone knows them from the original MTV series 16 & Pregnant, when the high school sweethearts had their first child, 9-year-old Carly, and made the difficult decision to opt for open adoption in 2009. Since then they married and welcomed their 3-year-old daughter Novalee Reign, but it's hardly been smooth sailing. The Teen Mom OG stars suffered through a difficult miscarriage in 2017, which left them both devastated. Fortunately, it looks like brighter times are ahead. Because Catelynn and Tyler Baltierra revealed the sex of their rainbow baby, and clearly they could not be more excited.
The couple, who were married in 2015, shared the sex of their third baby in a sweet Instagram post on Wednesday featuring none other than their 3-year-old daughter Nova. In the post, Nova is holding up a sign with a message that read, "I am such a pretty little girl, my mommy and daddy wanted another one to be their world. So as our world gets to be a little bigger, I can't wait to be a big sister." In other words, the couple are welcoming another daughter to the family.
Catelynn and Tyler first shared the news with Us Weekly on Wednesday, with the mom-to-be telling the publication that she was surprised to find out she was expecting a little girl:
I was so shocked that it was a girl because I for sure thought it was a boy! Tyler knew the sex before I did. When we did our gender reveal, I was so shocked I almost cried because I wanted a boy so badly. I'm super excited it's a girl now. Since our miscarriage, I just am thankful to get another chance, and as long as it's healthy, that's all that matters!
Both Catelynn and Tyler had an understandably difficult time after their 2017 miscarriage. Back in September Catelynn tried to be philosophical about the loss, telling Us Weekly:
I really believe in my heart that I was meant to have that miscarriage because I spiraled so hard that it forced me to go to a place where I really had to dig into my childhood traumas. I really think that the baby was meant to leave so I could really dig deeper into my wounds from childhood.
That loss seems to have made the couple even more aware of how precious each step of their pregnancy is, sharing sonogram pictures of their baby and simply enjoying every step of the way.
Catelynn Lowell and Tyler Baltierra are one of those couples who seem to continuously defy the odds. They were high school sweethearts who dealt with an unexpected pregnancy and stayed together. They are reality stars who live constantly in the limelight, which would be no easy feat even for a seasoned entertainment veteran, and yet they stay together. Because they're one of those couples who appear to know what they're fighting for; their family.
And now they have one more little girl on the way to keep fighting for as well.