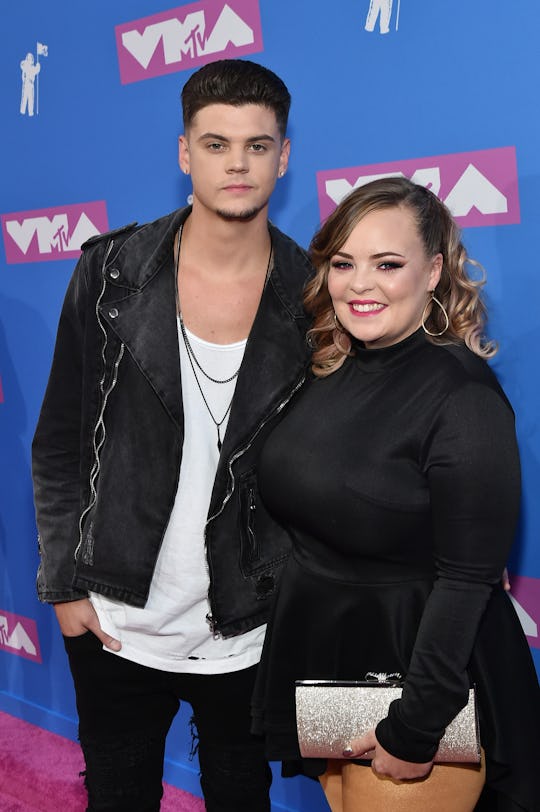 Mike Coppola/Getty Images Entertainment/Getty Images
'Teen Mom OG's Tyler Baltierra Shared How He Coped With Catelynn's Heartbreaking Miscarriage
When it comes to pregnancy, there can a lot of struggles that people may find it hard to be open about. Miscarriage is a topic that many find difficult to approach, although its impact can reverberate for quite some time. And often, men are not often seen opening up publicly about this type of trauma occurring in their lives. Recently, Teen Mom's Tyler Baltierra shared how Catelynn's miscarriage impacted him in an honest, refreshing interview.
In 2009, Catelynn Lowell and Tyler Baltierra were cast on 16 and Pregnant, as reported by E! News. The couple is well known for being one of the only couples within the entire Teen Mom franchise's installments to go with the adoption route. In addition, as noted by E! News, they are the only original couple from the series still together to this day.
Baltierra and Lowell married on Aug. 22, 2015, and since their original appearance on 16 and Pregnant, the couple have welcomed one child together: daughter NovaLee Reign, born on Jan. 1, 2015, according to Us Weekly.
Although the couple is currently expecting their third child together, that doesn't mean they didn't encounter hurdles in between — earlier this year, Lowell experienced a miscarriage. And, in a new interview, Baltierra opened up about the experience and how it affected him.
On the Monday, Feb. 26 episode of Teen Mom OG, Baltierra and Lowell received the devastating news that they had lost their baby, as reported by Us Weekly. It was obviously a difficult period for the couple, and Baltierra briefly opened up about at the time. According to Us Weekly, he told a producer on the show:
It was very traumatic. [I saw] her shaking, and she's got blood everywhere. She kinda like cleaned herself up and we figured what was going on. Spotting's normal but clotting … all the clots are not. We just sat on the bed and cried. We just held another. There's nothing you can really do.
Baltiera noted, according to Us Weekly, that it all felt similar to what the couple had gone through with Carly, the daughter they gave up for adoption, saying, "Carly's a little different because we get to see her every year, but it's a loss. I feel like you process it as a loss."
More recently, while appearing on the Reality Life with Kate Casey podcast, Baltierra was able to open up more about coping with the miscarriage, which he referred to as a "traumatic loss." He said, according to People:
It was very emotionally intense for me. My first initial reaction was to just to help Cate. I ran to her, held her. We cried. We just held each other for probably two hours and just cried.
Baltierra also opened up about working to process his own emotions, while still caring for daughter Nova as Lowell was in treatment for depression, according to E! News.
"From a guy's perspective — not to sound sexist — it's almost more acceptable for a woman to break down and be emotional," Baltierra shared, according to People. "But I swear, as a man, when I walked away from Cate and I didn't have to be so strong, I was breaking down every single day... It's just not really talked about a lot with men… it should be talked about more."
For Baltierra, though, it seemed that caring for Nova was a big part of keeping him moving forward. According to People, he said on the podcast:
Seeing Nova and realizing that I can't sit here and sulk in my pity. I've gotta be strong, engage with my daughter, play with her, take her to the park. I still had a job to do of raising her around the happiest environment I could make for her. I kind of felt that she was my motivation to keep strong, looking at her and saying, "I did lose this child, but look at this beautiful child I've got now." She helped me push myself forward and keep going.
Now, the couple is waiting for the arrival of their third child together, and they don't have long to wait. Lowell has an expected due date of March 6, as reported by Radar Online. The couple affectionally refer to their unborn child as their rainbow baby, according to Us Weekly, with Lowell noting, "This baby is our rainbow after the storm."
Baltierra's interview is definitely one of the most insightful ones out there. Although it's difficult to open up about topics like this, there's no doubt that doing so makes it easier for them to become less of a taboo.