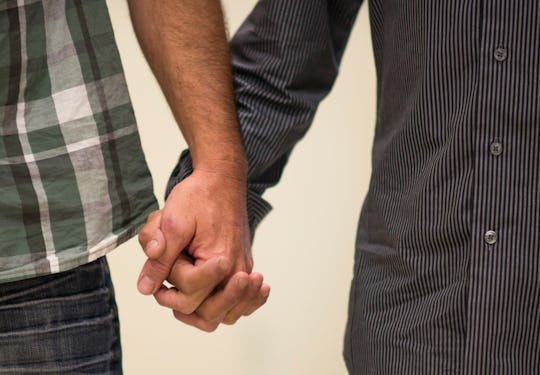 Ty Wright/Getty Images News/Getty Images
Tennessee's Latest Religious Objection Law Matters To Parents For This Reason
You'd think that even if some lawmakers in some U.S. states are unabashed and backwards bigots in their personal lives, they'd at least be willing to put that hate aside in their capacities as elected officials. A reasonable person would figure that anti-LGBT buffoonery would maybe not be a priority, ever, because it's discriminatory and unnecessary, to say the least. But with its brand new religious objection law, Tennessee showed us Wednesday that some with power over their state's law books just can't quit. There, Republican Gov. Bill Haslam signed a bill entitling mental health counselors to refuse patients based on the counselor's own religious beliefs — an attack on the LGBT community in particular and humanity in general. Tennessee's latest religious objection law should matter to parents too, as it creates a climate in which kids internalize negative ideas about difference as well as learn that it may not be OK to be themselves.
In case you missed it, there's been plenty of similarly anti-LGBT sentiment swirling around politics of late: North Carolina recently passed a law mandating that people must use the bathrooms that correspond with their assigned birth sex, rather than their gender identity. And then Mississippi's governor signed a bill making it legal for businesses to deny services to LGBTQ individuals based on religious beliefs. Both of these moves invited swift and fervent criticism from all sorts of advocacy groups and decent human beings.
But that so many people certainly don't support these unreasonable and malicious new laws like the one in Tennessee — all iterations of the same thinly veiled sentiment of ignorance and hate — doesn't assuage the fact that children are constantly exposed to their effects.
No matter how loving and open-minded their families might be, kids live in the real world just like everyone else. They learn by example and from their classmates just as much as they do from their teachers. So as long as state governments are denying a significant proportion of the population basic rights, kids will know, and they will be affected.
Kids are generally pretty good about embracing their peers' differences. Nicole Maines, a transgender girl who used her school's girls' bathroom growing up, never had a problem until a classmate's grandfather adamantly protested in 2007. After that, the family was forced to move, and Nicole had to keep her transgender identity a secret at her new school. The moral of the story is that while adults' meddling uprooted a child's life when, if it were up to the kids, everything would have been cool.
The recent rash of legislative madness simply communicates to kids that they need to hide or change if they're different. It shows them that treating others unjustly is acceptable. It really works to unravel the lessons adults try to teach kids about being nice and creative and treating others the way you want to be treated.
Laws like the ones that are rising out of this recent Tennessee anti-LGBT madness show children that some individuals and couples and families aren't as good as others, and that's certainly not true. All of this could certainly make them afraid to be who they are as they grow up — and that's simply unacceptable.