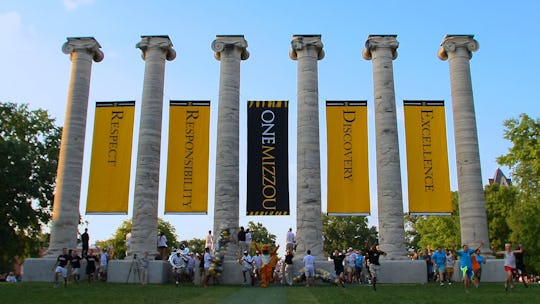 nonorganical/Flickr
Tensions Escalate At University Of Missouri, As Death Threats, Shootings, & More Reportedly Plague The Campus
After a long week of protests and resignations, the situation at the University of Missouri appears to be escalating, according to numerous reports. Yesterday, a video of an adjunct media professor for "muscle" to remove journalists from the demonstrations went viral. Today, Melissa Click allegedly received death threats and later apologized for telling the cameramen to get out. Tonight there were reports from Mizzou of continued death threats, shootings, and KKK sightings around campus. One reporter tweeted that the place is "literal hell right now." Threats were made against Mizzou students on social media, namely Yik Yak, a messaging app. Police were alerted of escalated threats around 7:30 p.m. and by 10 p.m. had increased security on campus. The Columbia Tribune in Missouri reported that Maj. Brian Weimer of the MU Police Department said that they had sent in extra officers to "specifically" track down the posters of the threats. 
Tonight, members of Concerned Student 1950, the group that has been organizing the demonstrations packed up their tents from the Carnahan Quad on MU's campus. They had been there all week. Students have been protesting all semester after a student wrote this summer that he faced racial slurs on his way to class. Last week, Jonathan Butler, a graduate student, went on a hunger strike to protest the administration's response to the demonstrations. This weekend, members of the football team announced that they would sit out games until the school's president resigned. President Tom Wolfe and the university's chancellor, R. Bowen Loftin, resigned yesterday. 
On social media, rumors are circulating about shooting threats, but the university has not called a state of emergency and tweeted earlier that the situation was under control. They also asked students to stop spreading rumors on Twitter:
And where there are protests, there's Twitter. After the resignations yesterday and the viral video of the communications professor blocking student journalists, the situation seems to be getting worse before it gets better.
Image: nonorganicalFlickr