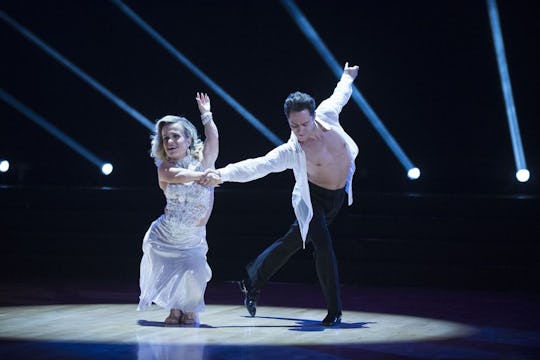 Eric McCandless/ABC
Terra & Sasha Are Eliminated On 'Dancing With The Stars' & Everyone Is Disappointed
It happens every week, but every time there's an elimination on Dancing With the Stars it always feels somehow unfair. The week before the finals, Terra and Sasha were eliminated on Dancing With the Stars and everyone was a little disappointed. Terra went to great lengths to prove to everyone that her stature and the fact that she is little would not affect her dancing ability, and though she is now out of the competition, she definitely did that.
Terra's story was often about certain physical disadvantages she had to overcome as a little person in a dancing competition against average sized people. Simply dancing with an average sized partner was a struggle at first, and seemed especially trying when Terra was rehearsing for the group dance. But exactly as she set out to prove, Terra is just as beautiful and capable a dancer as anyone else. She may have gone home on Monday night's episode, but it was still her best week ever as a dancer, and she danced beautifully. As seen in her video package, Terra was committed to performing and singing professionally from a very young age, and moved to California with essentially nothing, determined to make her way. Now that she has, she's proven that nothing will stand in her way.
On Monday night's show, the judges praised Terra for having grown so much throughout this competition. Julianne Hough remarked that a while ago she had said that the Paso Doble wasn't a natural style for her, and yet now here she is, full of confidence and style, absolutely rocking the Paso Doble. She earned perfect scores for both of her dances this week, both the solo dance with just Sasha, and the trio, which they danced with Artem.
When the elimination was finally revealed, the partners only had a couple of moments to say goodbye before the cameras stopped rolling. Terra said that she wouldn't be standing where she is if it wasn't for Sasha. Host Tom Bergeron gave her quite the compliment when he said, "When people ask me who are my favorite people we've had on this show, your name's on that list now my dear." And I have to say I agree. Terra will most definitely be missed.