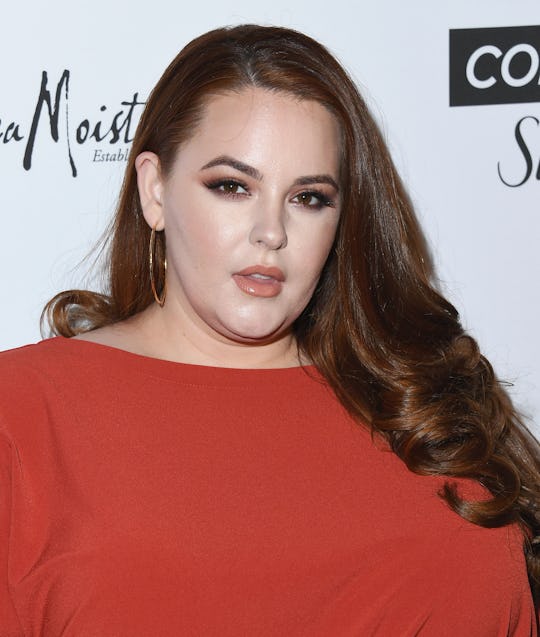 Jon Kopaloff/Getty Images Entertainment/Getty Images
Tess Holliday Fearlessly Opens Up About Being A Model & A Mom — INTERVIEW
Tess Holliday wants to make something clear to people: she loves her life and she's really, truly done apologizing for it. When I spoke to her on Friday, the new Cosmopolitan UK cover girl was a glorious ball of energy, fun and edgy and unexpectedly present. Exactly the kind of person everyone wants to be friends with, and exactly the kind of friend I personally think every girl needs. But obviously it hasn't always been like this for her. Holliday's confidence is hard won every damn day of her life. In a recent People TV special, Holliday fearlessly opened up about being a model and a mom who wants to raise her sons with a different frame of reference for body image, and honestly it's a must-watch for anyone who needs to be reminded to love themselves.
The supermodel, body positivity activist, and author told me in an interview that she has been approached several times in the past to do some sort of behind-the-scenes documentary about her life, but when she was approached by People TV she decided they would be her best bet. "Not only has People been incredibly supportive of me throughout my career, but I also knew they would let me be me." This included her family, of course. Husband Nick Holliday, their 2-year-old son Bowie, and Tess' 12-year-old son Riley from a previous relationship. The entire family, plus Holliday's friends and members of her glam squad, were filmed together for more than three months in preparation for People TV's special Tess Holliday: Making It Big.
On Raising Kids Who Get It
In the special Tess Holliday: Making It Big, both of Holliday's sons are featured here and there (and if you manage to get through watching her son Rylee walking her down the aisle for her vow renewal ceremony without crying, I'm truly sorry about your cold dead heart). As a woman who spends so much of her life promoting self-acceptance and body positivity, I was curious to know how she was passing that along to her sons. Because let's face it: if we manage to raise a generation of men who see women as humans and not, as Holliday noted, "objects of male pleasure," we will really have done something as a whole. Holliday told me:
Bowie is still pretty young, but Rylee and I talk about body image a lot. I remind him that he should always feel good about himself and he gets it. He's one of those kids who will tell me I look beautiful and really mean it, which is great. But he's also so lucky; he's around all of these positive people because of my work who affect the way he gets to see the world. I'm almost jealous; when I was his age things would have been so different for me if I had all of these people to kind of guide me.
On Self-Love
So here's one thing Holliday and I did not discuss: whether or not she exercises. The state of her health. Because first of all, it's none of my business, and second of all, she's done talking about any of that. To anyone. Her size does not give anyone the right to make assumptions about her health, and the #EffYourBeautyStandards advocate wants to make sure her followers are getting that message loud and clear. As she explained to Romper:
I don't have to explain my health to anyone or make excuses. I'm not going out there telling people to gain 300 pounds or anything; I'm just trying to love myself in the body I'm in.
Holliday isn't interested in discussing her exercise routine because she feels it "perpetuates abuse against bigger bodies. It continues the myth that we owe people an explanation for who we are simply because we're fat."
Holliday also noted a recent video shared by British comedian Russell Brand, where he pointed to all of the ridiculous hypocrisy of body shamers attacking Holliday's recent Cosmo cover who never say a word about some unhealthy habits shared by thinner models and actresses.
Nobody says anything when someone is seen smoking pot or drinking or whatever, but here I am smiling and happy and because I'm fat people think they can question my health.
On That Cosmo Cover
Just when Holliday should be taking a moment to celebrate her success, of course the body shamers come out of the woodwork to attack her. To say she is somehow glorifying obesity instead of simply existing as the person she happens to be. Piers Morgan famously went after her Cosmo cover, and Holliday happily shut him down in no time.
Holliday did not specifically discuss Morgan (because honestly, does she need to say anything else on the subject?) but she did give me her brilliant theory on why she thinks seeing happy, fat people is a problem for some:
I think people are getting scared that the world is changing and that prejudice against fat people is becoming less acceptable. So when someone says something negative, I try to remember that it's their own s**t they're dealing with and doesn't really have anything to do with me.
On Staying Positive (Body & Otherwise)
One of the most inspiring principles I took away from Holliday is her sense of positivity even when awful insults are being hurled at her on social media. I asked her how she manages to stay so positive and her response was sort of heartbreaking and wonderful all at once:
I have to stay positive because I don't have a choice. For my mental health, if I don't stay positive terrible things would happen.
She also has such a genuine sense of responsibility for her followers, for those women out there who might see the negative backlash she experiences and feel as though it's minimizing their existence as well. You can see it in her People TV special, when she invites Instagram followers to her home for a yard sale (and literally takes off a skirt to give to one of her fans who loves it). That sense of responsibility is the driving force behind her resilience and her need to stand up to body shamers, especially after her Cosmo cover:
I know what that Cosmo cover means, not just to me but to girls who look like me. I know what it would have meant to me to see that cover as a kid.
That's the thing about Tess Holliday. She's not just fighting for her right to exist and love and be happy in her own skin. She's fighting hundreds of years of acceptable weight prejudice right in the trenches. She's been doing it for years.
It just looks like the rest of the world might be nearly ready to catch up.