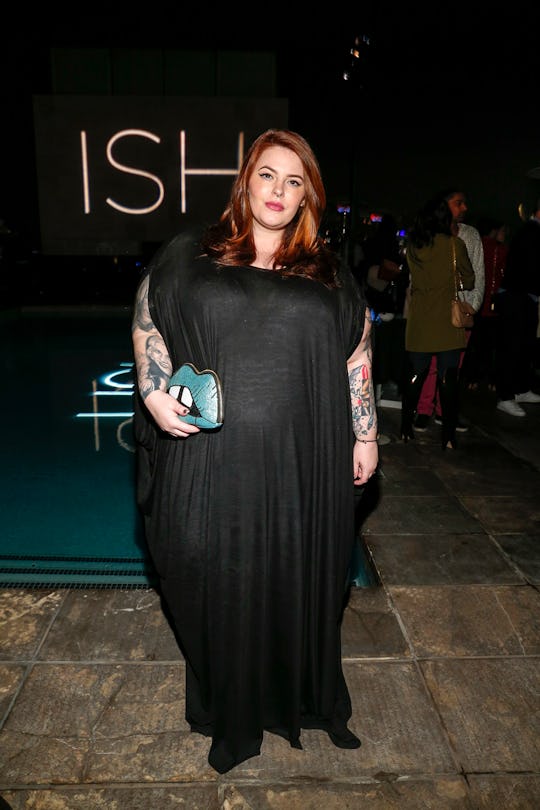 Rich Polk/Getty Images Entertainment/Getty Images
Tess Holliday Shares Baby Bowie Juniper's Name Inspiration & It's Amazing
Tess Holliday understands the power of a good name. After all, when she decided to take her chances at becoming a model, Tess Holliday was the name she chose for herself, not the one she was born with. So when Holliday shared the inspiration behind her baby Bowie Juniper's name, you know she put a whole lot of thought into the process. Because a name holds power.
Holliday and her fiancee, artist Nick Holliday, took their time choosing a name for two-month-old baby Bowie. She told People, "He was Baby Doe for the first three days. We wanted him to have a name that no matter what kind of person he grew into, it would suit." When they eventually settled on the name Bowie Juniper, it was for a few fairly adorable reasons. First, dad Nick had always wanted the name Bowie in honor of the late, legendary singer David Bowie because,
David Bowie was really important to me because he was the first person that showed me that there was a different way of being a man.
As for the middle name Juniper, the proud new dad reported he has always loved floral names. "I think they're beautiful for girls, and there's not a lot equivalent for men, so I literally just went through a list of botanicals and Juniper was on the list."
Holliday felt the middle name especially suited her little boy because of his easy disposition. She told People: "We thought it suited him because he has such a sweet temperament."
Baby Bowie Juniper is Tess Holliday's second little boy; her 10-year-old son Rylee is from a previous relationship and is reportedly overjoyed with his new baby brother, even though his mom is having those all-too-familiar guilt feelings of sharing the love around to all her boys. "It's harder in just trying to make sure that I'm giving both my kids attention and paying attention, and constantly telling Rylee, 'We love you just the same,' That has been really challenging. But I feel more comfortable this time because I've done it before, and I feel more confident in my skills because Rylee's still here so I obviously did something right!"
And baby Bowie Juniper is certainly living up to his sweet name. "People always say terrible things to you when you're pregnant like, 'You're never going to sleep!' He's been sleeping for about six hours a night. It's so nice! He's such a sweet, chill guy."
And his mom, Tess Holliday, continues to live up to her name as well. Born Ryann Megan Hoven, Holliday reinvented herself first as Tess Munster and then Tess Holliday when she left Mississippi to become a plus-size model. Because she knew there was power in a name. And she senses a sweet life ahead for baby Bowie Juniper.