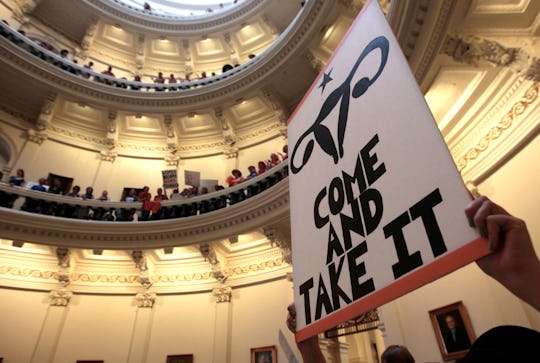 Erich Schlegel/Getty Images News/Getty Images
Abortion Bill Passed In Texas Legislature Makes No Sense
Friday was not a good day for the women of Texas. The Republican-led state legislature has just dealt a massive blow to women's reproductive rights in the Lone Star State. Flying in the face of a previous decision by the United States Supreme Court, the Texas State House passed an anti-abortion bill that makes absolutely no sense.
State Bill 8, an anti-abortion package bill, was passed in the Texas House with a vote of 93-45 by the time it came to its third reading on Saturday. The bill looks to make a commonly practiced abortion procedure illegal, and would direct law enforcement officials to charge any doctors performing this procedure with a felony. The procedure, known as dilation and evacuation, is used in second-trimester abortions. While the banning of a procedure which has widely been accepted as the safest form of abortion in the second trimester is odd in itself, it's actually the other provisions that make absolutely no sense.
S.B. 8 looks to ban "partial-birth" abortions in response to bogus "investigative" video footage of Planned Parenthood facilities selling fetal tissue for profit. The videos have been discredited (anti-abortion activists were charged with illegally filming the videos, and further investigation failed to provide any evidence to their claims) yet the state of Texas marches forward with its misinformed bill. If passed, the bill would also require that all fetal tissue be buried or cremated, and would outlaw fetal tissue donation, based on those same discredited videos. Fetal tissue donation is already outlawed... I guess they want it to be extra outlawed in Texas.
The head of the Texas House Democratic Caucus, Rep. Chris Turner of Grand Prairie, predicted legal challenges to the bill, particularly considering that the Supreme Court already swept aside the state's last attempt at an over-reaching anti-abortion bill just one year ago. He told The Texas Observer:
This legislature has a history of passing bills that have been struck by the courts because they're unconstitutional.
Amy Hagstrom Miller, CEO of Whole Woman's Health and one of the plaintiffs in last year's Supreme Court case to oppose the original anti-abortion bill, noted:
This is not based on any science or fact, and [anti-abortion advocates] know that. They're trying to say what happened in the Supreme Court doesn't apply to us in Texas.
According to the Associated Press, the health department of Texas has already tried to force abortion providers to cremate or bury fetal remains. They were blocked in court by a judge who called the move "purely political" and without medical merit. If the bill holds up in court, abortion providers will be expected to absorb the additional cost of cremation and burial, even as their funds could be stripped away by the Trump administration in the near future.
The law is not on the side of these Texas lawmakers. When similar bills were introduced in Alabama, Oklahoma, Kansas, and Louisiana, the courts blocked their passage.
Unfortunately, being blocked by the courts doesn't appear to sway them. Nor does it appear to make them any more interested in women's reproductive rights. As Kathy Miller of the Texas Freedom Network told The Texas Tribune:
The sad truth is this bill's supporters are peddling lies to shame women who seek an abortion and make it harder for them to get access to the reproductive health care they need.