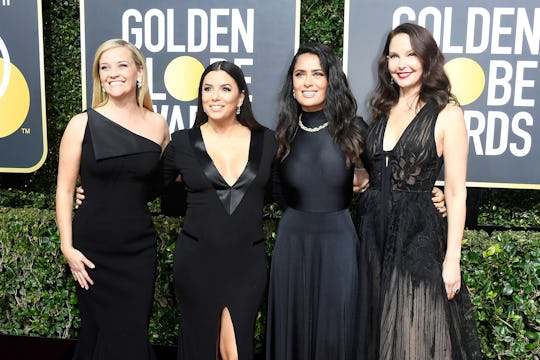 Frazer Harrison/Getty Images Entertainment/Getty Images
Thanks To The 2018 Golden Globes, "Victim" Is No Longer Synonymous With "Weak"
As a survivor of sexual assault and domestic violence, the word "victim" has been hurled in my direction not as an empathetic identifier, but as a slur. A condemnation. A slight dripping with heartless accusation and persistent dismissal. Victim has become synonymous with "weak" and "broken" and "less than," as if the abuse suffered at the hands of others is somehow, intrinsically, our fault. But during the 2018 Golden Globes, a palpable change in the tides that move our culture in one direction or the other occurred. The victims had all the power — were the main characters in the stories they told on the red carpet and on stage accepting awards and in microphones to inquiring television hosts, and slowly but surely were pulling, pushing, and carrying us towards a new day when victims are seen for exactly who they are: powerful people who have endured the worst of us, but continue to fight for the best of us.
It began on the red carpet, where Hollywood's most celebrated actors and actresses wore all black in solidarity with the countless women (and men) who have suffered injustices in the workplace. Many of the entertainment industry's most elite celebrities invited activists to accompany them, using their platforms to elevate women like Saru Jayaraman, the Co-Founder and Co-Director of the Restaurant Opportunities Centers United (ROC United) and Director of the Food Labor Research Center at University of California, Berkeley, and Tarana Burke, senior director of the nonprofit Girls for Gender Equity and founder of the #MeToo movement.
This movement was highlighted by actress Viola Davis, who when asked what the evening meant to her, responded, " ... I am here because I hear the voices of women who said 'me too,' which one of them was me. I hear those voices, those people who are nameless, faceless, every day, who don't have a platform." She then continued with a message every survivor needs to hear over, and over, and over again, and especially when she (or he) is feeling worthless, exhausted, and in danger of giving up:
"There's no prerequisites to worthiness. You're born worthy. And I think that's a message that a lot of women need to hear. The women who are still in silence because of trauma, because of shame due to assault, they need to understand it's not their fault. And that's what tonight's about for me."
According to the Rape, Abuse & Incest National Network, 1 in 6 women will be sexually assaulted in their lifetime. As of 1998, an estimated 17.7 million American women had been victims of attempted or completed rape. Statistically speaking, there were numerous victims of sexual assault in the audience at the 45th Annual Golden Globes, and countless more at home, sitting on their couches and watching via their television sets. So many women from different backgrounds, in different cities, worshiping different gods and working different jobs and enduring different hardships. And yet, for one night, we were all connected. We all watched as stories like ours were told during Prime Time Television. We watched as our favorite actors and actresses thanked us for our truth and our strength and our sometimes silent determination. We watched ourselves, on stage, claiming our time and holding space for ourselves and others.
The power of victims was alluded to when, during his opening monologue, host Seth Meyers said, "People in this room worked really hard to get here, but it's clear, now and more than ever before, that the women had to work even harder. So thank you for all the amazing work you've done and continue to do. I look forward to you leading us in whatever comes next."
And while victims continued to take center stage throughout the evening — from Lauren Dern saying, "May we teach our children that speaking out, without the fear of retribution, is our new north star," to Frances McDormand saying, "Trust me, the women in this room tonight, are not here for the food. We are here for the work." — it was, arguably, Oprah Winfrey's acceptance speech that brought the gravity of the evening, the importance of a continued movement that has spanned decades, and the capabilities of those who have been marginalized, to light.
"We became the story," Oprah began, as she held her Cecil B. DeMille Award and gave an emboldened speech that left the entire room enthralled. Then, with her iconic grace, she proceeded to say the following:
"So I want tonight to express gratitude to all the women who have endured years of abuse and assault because they, like my mother, had children to feed and bills to pay and dreams to pursue. They're the women whose names we'll never know. They are domestic workers and farm workers. They are working in factories and they work in restaurants and they're in academia, engineering, medicine, and science. They're part of the world of tech and politics and business. They're our athletes in the Olympics and they're our soldiers in the military.
And then Oprah talked about Recy Taylor, a young wife and mother who was brutally raped by six armed white men as she was walking home from church. Taylor never received the justice she deserved because, as Oprah put it, "justice wasn't an option in the era of Jim Crow." Taylor died 10 days ago, just shy of her 98th birthday, but her story lives on, and became a center part of Oprah's speech as she highlighted not only the sheer determination, grit, and endurance of victims, but the vital need to know more about them. To remember them. To highlight them. To listen to them. To learn from them.
"She lived as we all have lived, too many years in a culture broken by brutally powerful men," Oprah continued. "For too long, women have not been heard or believed if they dare speak the truth to the power of those men. But their time is up. Their time is up."
The tides of a culture that has perpetuated systemic violence against women are turning. The change is slow, and one that has been fought for by countless women over decades: women who will never receive accolades, or awards at a prestigious awards show, or full page op-eds in The New York Times. But with that change will, I believe, come an overhaul in how we, as a society, view victims.
As Oprah said, "I want all the girls watching here, now, to know that a new day is on the horizon! And when that new day finally dawns, it will be because of a lot of magnificent women, many of whom are right here in this room tonight, and some pretty phenomenal men, fighting hard to make sure that they become the leaders who take us to the time when nobody ever has to say 'Me too' again."
The time has come. No longer will we be ignored. No longer will we be blamed. No longer will we be dismissed, downplayed, bullied, or perceived as weak. Our strength will be admired. Our courage will continue to be an inspiration. And no longer will our existence be whittled down to one traumatic moment in our complicated, beautiful, painful, important lives.
Check out Romper's new video series, Romper's Doula Diaries:
Watch full episodes of Romper's Doula Diaries on Facebook Watch.