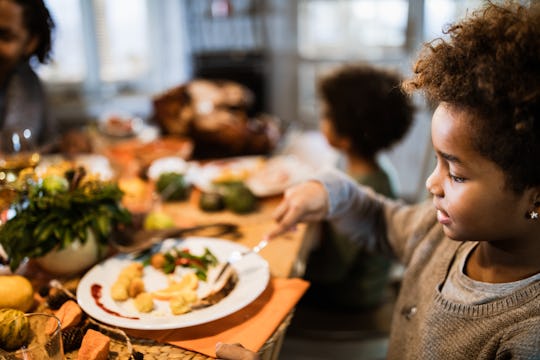 skynesher/E+/Getty Images
18 Thanksgiving Sheet Pan Sides You'll Def Make Room For In The Oven
There's no question that a golden turkey is traditionally the star of the Thanksgiving table, but the supporting players are pretty important, too — and they go way beyond cranberry sauce and stuffing (not that there's anything wrong with cranberry sauce or stuffing). Even better, there are so many recipes out there for super easy sheet pan Thanksgiving side dishes to prepare. It'll look like you were toiling away in a hot kitchen all day... which you might have to do anyway, but it won't be the fault of these side dishes.
Most of these recipes can be prepped ahead of time, so you can cut down on the amount of time you spend cooking on the day of the holiday and actually have a chance to hang out with your family for a bit. Another bonus is that sheet pan dishes are easy to clean up, once again sparing you from still more time spent in the kitchen (unless you're the type who makes your guests clean up after dinner, in which case you're sparing them the work, which is very kind of you).
Some of these might seem familiar to your family, while you might be introducing your kids to new tastes and textures with some of the other recipes. The good news is, they're all delicious.