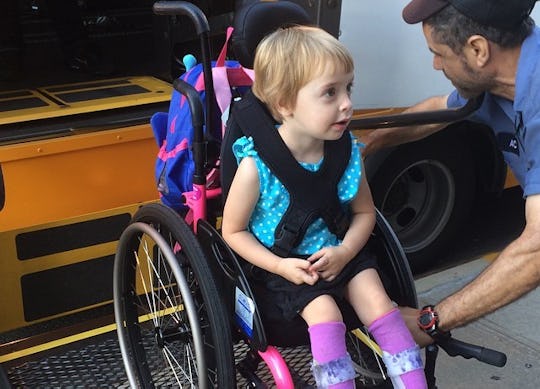 Photo courtesy of Aimee Christian
The Best & Hardest Thing I've Done As A Parent Is Put My Kid On That Bus
On the first day of school, I hugged and kissed my daughter Freyja goodbye and watched as her bus pulled away, waving until it reached the end of the block, turned left, and disappeared out of sight. Then I turned toward our apartment building and cried. I was crying not only because today was Freyja's first school bus ride ever, but because today she was not quite 3 years old, headed to a new school, on an accessible lift bus, all by herself, with at least an hour's commute ahead of her to school, in her wheelchair for the first time.
Freyja was born with a very rare condition called pontocerebellar hypoplasia (PCH). Most children with this genetic condition are unable to walk, talk, eat or really do much at all without assistance. They often do not survive childhood. Freyja has some very significant disabilities, but there is a lot she doesn't share with her PCH peers. When she acquires a skill she keeps it, and her determination and drive have helped her develop in ways her medical experts predicted she never would.
Six months before that day, one of Freyja's therapists suggested that while she was doing spectacularly in her early intervention work, she might do even more spectacularly if she transitioned to a preschool that was equipped to address her many needs. She mentioned a very progressive, very expensive private school to us — School A — that was well-known nationwide and which had an integrated preschool program fully funded by the Department of Education (DOE). "Integrated" means that the student body consists of both general education kids and special ed kids. We fell in love with School A's incredible resources, their well-documented experience and their interest in Freyja. Best of all, we loved the chance for Freyja to have her therapies in school, for her therapists to be part of a team in one location, and for her to be among other children who struggle with disabilities. And it didn't hurt that if she were accepted there and the DOE mandated a program like the one they offered, the state would pay the tuition, saving us many, many thousands of dollars.
We submitted our application, feeling confident. A few weeks later, Freyja had her playdate at School A, which couldn't have gone better if we'd scripted the whole hour ourselves. I just knew they'd want her.
When you think there is no appropriate place for your kid with a disability, you feel judged and you feel alone.
Someone suggested we look at other schools with integrated programs just to have a backup plan. We found one other place (School B) that also looked fantastic, but the director wouldn't answer my questions when I called. She explained that her school followed a different application timeline than School A and they didn't tour parents or even really talk to them until after the individualized education plan (IEP) meeting. They wanted to meet with families whose children had the mandate not only to attend a school like theirs, but to attend their school. I didn't know how that would work but I didn't ask, because School A was all but a sure thing.
When the admissions director from School A called a few days later, she was sweet and friendly and told me that they were not offering Freyja a spot. They loved her and thought she would be a great fit, but there were only two spots this year, and Freyja was the third child on the list behind two who were either siblings of current students or employees' children. My heart was in my throat. It didn't matter to me how nice she was or much she loved Freyja if the school didn't want her. It was already late May and it felt to me like time was running out. What was I going to do?
When you think there is no appropriate place for your kid with a disability, you feel judged and you feel alone. You're afraid for your kid and you're afraid for yourself. No one gets what you're going through. And worst of all, there's nothing you can do. Nothing at all. You and your kid are ultimately at the hands of the DOE and the school administrators, so you end up begging them to like you and to want to help your kid. What if the DOE didn't think School B would work for Freyja and instead placed her somewhere terrible? I had no idea what to expect. I was scared to death. I had been accepted at every school I ever applied to. How could this be happening? Years ago, I had applied to Harvard, Yale, Penn State, and the University of Chicago and gotten into them all. How could it be harder for a 2-year-old to get into Schools A and B? I didn't understand why this was so hard, and I didn't believe anyone when they said it would get better.
On the morning of the IEP meeting, I held a venti coffee in one hand and in the other carried the binder I had put together at a friend's recommendation. The binder was fat with a packet of adorable photos of Freyja I had printed, multiple copies of her therapeutic evaluations, letters from her medical team, prescriptions and other documents about her preschool education, the IEP meeting, the various schools, and so on. It was white with a clear plastic cover, into which I slipped the cutest of the photos and a name tag with FREYJA printed on it.
Our assigned DOE administrator fetched us and made small talk as we followed him down a hall and up a flight of stairs to a tiny office, maybe six-feet wide and 10feet long that was mostly conference table. He squeezed into the far corner and pointed to a purple visitor chair opposite him. "Mom sits in the purple chair," he said, with a nod in my direction. I sat.
He spent a lot of time looking through all the documents and photos in the binder. He asked thoughtful questions and took copious notes. He deemed Freyja a preschooler with a disability (which is an important distinction in New York City, qualifying her for placement in specific schools). He summarized all we'd described and all he'd read, and he determined that she should have the maximum related services (meaning that she would get her physical therapist, occupational therapist, and speech therapist the maximum amount of times the school offered them per week — usually three, sometimes four). He also awarded her a full-time paraprofessional to assist her with mobility. This was something I didn't even think of asking for. He talked about her commute; she'd be taking a bus and he wanted to make sure that it wouldn't be more than one air-conditioned hour each way. He explained that Freyja would need a wheelchair to manage the lift, and he helped me work through where to get one made for her on the DOE's dime. "Kids love the bus!" he assured me when I appeared skeptical. But he didn't say where he thought she should go. I took a deep breath. "So, what do you think of School B?"
He nodded and said that School B would be a great fit for Freyja's needs. He stamped the paperwork, called the school, and she was in. Just like that.
I didn't consider that I'd be putting my toddler who could not toddle in the hands of a young paraprofessional, likely a teenager with a GED paid just a notch above minimum wage to work with my disabled baby full-time.
At that time, I was so relieved that she got placed at that school that I didn't think anything of the fact that as a late September baby, she'd be starting preschool still 2 years old. I didn't consider that I'd be putting my toddler who could not toddle in the hands of a young paraprofessional, likely a teenager with a GED paid just a notch above minimum wage to work with my disabled baby full-time. I didn't think about where the school was. Midtown wasn't far from where we lived as the crow flies, but with her school bus having to navigate six miles of Manhattan traffic in rush hour twice a day, I didn't think about whether that hour commute they promised us was even realistic.
All of this struck me as the bus pulled away from the curb in front of our apartment building that early September morning. I knew we had made the right choices for her education, her health, her potential. But she was so very tiny, and with such a big job to do. Riding this bus into the future, into her new school, into her new life, seemed like too much to expect of someone so small. My heart hurt for this baby girl strapped for the first time into a pink wheelchair she was too small to maneuver on her own, sucking on her pacifier, riding the shortbus to a new school all by herself with a change of clothes, extra diapers, her nut-free snacks.
But I had an idea. I wiped my tears. I blew my nose. Then I hopped on my bike and raced the bus to school, hoping for traffic so I could be there to greet her when she arrived.