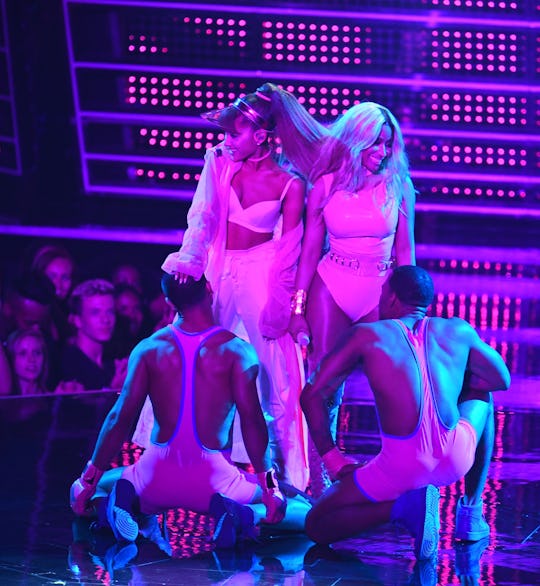 JEWEL SAMAD/AFP/Getty Images
That Moment During Nicki Minaj & Ariana Grande's VMAs Performance Was Feminist AF
The MTV Video Music Awards have always been a catalyst for boundary-pushing television moments. Whether it was the iconic on-stage kiss between Britney Spears and Madonna, or the show-stopping 2014 performance from Queen Beyoncé herself, the VMAs have been a staple in female empowerment; whether it means booties are bouncing or women are making memorable and moving speeches. Which is why, of course, it was no surprise "that moment" during Nicki Minaj and Ariana Grande's VMAs performance was feminist AF. After all, tradition is tradition.
During one of the earlier performances in the evening, Minaj and Grande took the stage to perform a Caribbean-influenced rendition of "Side-To-Side," a single from Grande's new album, Dangerous Woman. Although the two performers didn't take the stage together at the beginning of the performance, they ended together; in the middle of the stage, two male dancers at their beck and call. What came next was arguably one of the most feminist moments the VMAs has afforded viewers: Grande and Minaj motioned two male dangers to their front, then pushed their heads down until the two men were on their knees, simulating what can only be described as cunnilingus. They then pushed the men's heads back, almost defiantly, as the song ended.
Although it could be easy to argue that this display of female empowerment was somewhat "lazy," (I mean, sexualizing anyone isn't what most would consider to be "creative" or original in any capacity) it's difficult not to stop, take a second, and realize how poignant this particular moment was. After all, seeing two proud women standing on an international stage evoking their sexuality in a powerful way is the anti-slut shaming message this country, this society, and so many men, need.
It's not uncommon for male artists in the music industry to sexualize women ad nauseam, but women are granted less "artistic freedom" when it comes to evoking what they may consider to be sexy. In fact, usually they are sexualizing themselves; making themselves more desirable to the opposite sex, instead of exploiting what they find to be desirable. While male artists can sing or rap about "b*tches" and "wh*res" and whatever else rhymes with their latest hook, women are told to be sexy but not appear overly sexy; to use their bodies in a way that makes them marketable, but not in a way that makes them "bad influences." In other words, women can't win.
Which is why two powerful, successful women figuratively — and literally — saying "screw it," is a feminist moment we should all stop and appreciate. Simulating sex is nothing new, but seeing women simulate such an empowering sexual position (in which pleasure is arguably one-sided, and the woman is being catered to by her partner and not, either in turn or simultaneously, pleasing a man) is not necessarily considered "normal." Two men on their knees in front of two women, an image we as a society are used to seeing in reverse, shows that women, just like men, can demand sexual pleasure in an unapologetic way. It reminds us all that women don't have to be the ones constantly "giving," but can be on the receiving end, too.
Regardless of what society requires or expects of women, Grande and Minaj reminded us all that women don't have to cater to men. Women don't have to be the sexualized background images. Women don't have to apologize for asking for (nay, demanding) what they want, whether that's sex or, you know, anything else. Women can wear five inch heels, show their asses, dance, sing, make poignant speeches, refuse to wear makeup on the VMAs red carpet, cover up completely or go completely nude and, yes, stimulate oral sex on an international stage. In the end, and always, women can do whatever it is men can do, and they don't have to apologize for it.