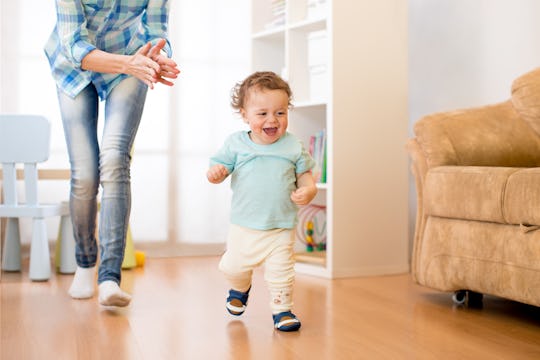 Shutterstock
Is Your Little One Making Moves? These Baby Shoes Support Their Every Step
A baby taking their first steps is one of the most exciting milestones, but it means you might find yourself suddenly needing footwear for your little mover. The best shoes for babies learning to walk are comfortable and follow the barefoot model preferred by pediatricians. Here are a few things to consider when shopping.
Baby's Foot Development
Professionals recommend babies should take their first steps barefoot for healthy foot development, and shoes aren't needed until they actually start walking. Even then, it's best to only wear shoes to protect a baby's feet as they explore outside and shoes should never be stiff or compressive. A couple of my shoe picks have a seal from the American Podiatric Medical Association, which means they encourage good foot health. I've included some non-slip socks to keep your baby's feet warm while walking at home.
Soft Uppers And Convenient Details
If your young walker will be venturing outdoors, here are some things to look for in a good pair of shoes.
Uppers: A lightweight and flexible shoe that moves with your baby is important for supporting their toddling. Choose a soft upper, like mesh, cloth, or leather. The goal is to offer a shoe that aligns with the barefoot model and mimics the feeling of bare feet.
Cut: An ankle-cut or high-top shoe provides a snug fit that you can easily get on, but that your curious baby won't just as easily remove.
Easy On/Off: A tab at the heel help you slip your baby's heel firmly into the shoe. Velcro hook-and-loop closures make getting shoes on and off a quick task, but you may prefer laces if your older baby figures out how to pull open a velcro strap. Adjustable straps or laces help ensure a secure fit.
Width considerations: Babies have adorably wide feet, and young walkers need shoes with wide, rounded toe boxes for a comfortable fit. Look for shoes with extra-wide sizes if your baby has wider-than-average feet.
Age-Appropriate Soles
Baby's first real shoes for walking should have soles that are flexible and non-slip with grip or have skid resistance to help keep babies upright. Grooves in the sole provide extra traction, and a cushioned footbed adds more support. When babies get more confident walking barefoot, experts say you can switch to harder-soled shoes — for most babies, this might be around 15 months. That's why, in addition to beginner shoes, I have included options with sturdier soles. With all this in mind, below are the best shoes for your little one learning to take his or her first steps.
We only recommend products we love and that we think you will, too. We may receive a portion of sales from products purchased from this article, which was written by our Commerce team.