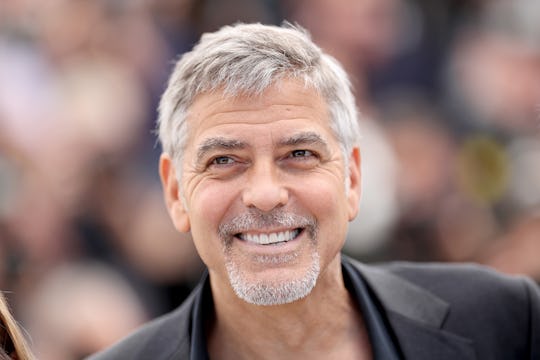 Pascal Le Segretain/Getty Images Entertainment/Getty Images
Don't Drag George For "Finally" Becoming A Dad
The day of the twin births the world has been waiting for is finally here — No, not Beyoncé, but George and Amal Clooney. The couple welcomed their first children together Tuesday morning — a boy, Alexander, and a girl, Ella. While fans are justifiably over the moon for the couple, there are plenty of folks out there throwing some parenting shade disguised as congratulations because George Clooney has "finally" become a dad. C'mon now, can we not drag down the man who's been a first-time father for less than 24 hours? Twins Alexander and Ella are the 56-year-old actor's first children, after many, many years of eligible bachelorhood before marrying 39-year-old Amal Alamuddin last year.
Dad-shaming is just as real, but perhaps not as overt as mom-shaming. Now that Clooney has joined the parenting club, he also gets to join in the fun times that is parent-shaming. When people congratulate Clooney for "finally" becoming a dad and saying it's taken him long enough, it's actually a really backhanded compliment. Shaming older parents shouldn't happen at all, for two very important reasons. And if we really get down to it, any parent shouldn't be shamed for being a parent, regardless of age.
Here's how some of the internet reacted to the news that Clooney is now a father:
Sadly, this isn't the first time people have reacted this way. When news first broke in February that George and Amal Clooney were expecting twins, some outlets decided to sound the alarm bells in their coverage. One headline read "What's at stake for older dads?," and tied Clooney's awesome pregnancy news into an "older fatherhood health risks" hook. Just two months prior, another publication called out Mick Jagger for becoming a father for the eighth time over by asking the question nobody was really asking, "How old is too old?" All of this is really unnecessary.
First of all, it's just mean. Look, it's bad enough when my 4-year-old asked me the other day, "Mom, are you old?" that I laughed entirely too loudly and nervously while screaming internally about having just turned 35. How do you think Clooney feels to be perpetually reminded of his age? Congrats on having twins, George, especially when you're even closer to death than your wife! Does that seem harsh? It should — because that's exactly what's really behind all the "He's too old to have kids" remarks out there.
Secondly, women have been hearing this for years, but more often in the form of pearl-clutching alarmist advice: Don't wait too long to have kids! And when women choose to have children later in life, they get criticized for their choice. Just because it happens to women doesn't make it OK to criticize older fathers in the same way. It also erroneously assumes a particular life path that fits every person: Get a good job, get a house, get married, have kids and try to do all of this in roughly the prescribed order — by the time you're 30.
Instead of ribbing Clooney for his age, let's raise a glass to his newfound fatherhood and celebrate what really matters: The joy of new babies.