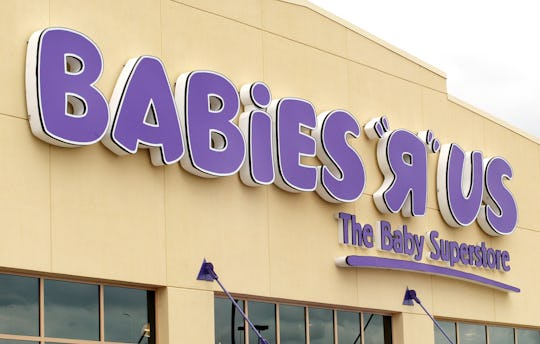 Tim Boyle/Getty Images News/Getty Images
The 2016 Babies R Us Cyber Monday Sales That Moms-To-Be Will Want To Stock Up On
When you're a mom-to-be, preparing for your little one can seem daunting because — in case you didn't know —babies need a lot of stuff. From diaper bags, to bottles, to bibs ,and everything in between, tiny humans require an arsenal of gadgets and gear. Luckily, the 2016 Babies R Us Cyber Monday sales make stocking the nursery — or helping a new mom do the same — an affordable and, let's be real, fun venture.
What's doubly fantastic about Cyber Monday sales at Babies R Us is that you can hit the brick-and-mortar stores to score these fantastic deals or you can hang out at home and fill your online cart with discounted goods and gear. Bonus? The online fun starts early this year. Starting on Saturday, Nov. 26 and running through Tuesday, Nov. 29, there are certain select deals you can only snag if you scope out BabiesRUs.com from the comfort of your own home. Just think of it as #CyberMondayShoppingAndChill.
And that's not all\. On Sunday, Nov. 27, Babies R Us is offering 15 percent off any regular priced item site-wide, followed by $10 off any purchase of $100 of more on Monday, Nov. 28. Plus, if you sign up to receive Babies R Us newsletters, you'll receive brand new Cyber Monday deal offers delivered to your inbox daily. According to Richard Barry, the Executive Vice President and Global Chief Merchandising Officer of Toys R Us, these extra incentives are meant to underscore that "the savings don't end on Black Friday." You heard the man — prepare to get your Cyber Monday on.
Here are some of the fantastic deals you'll find throughout the week as part of the 2016 Babies R Us Cyber Monday sales.