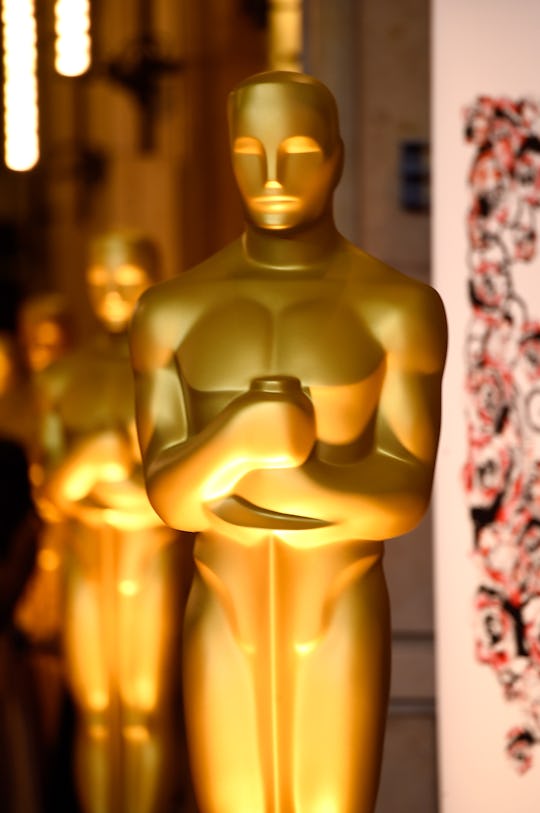 The 2016 Oscar Nomination Snubs Show There Are No Guarantees In Award Season
So here we are again. Awards season 2016 is underway. The Golden Globes were Sunday, the SAG awards are coming up, and on Thursday the Academy of Motion Picture Arts and Sciences announced who will by vying for an Oscar come Feb. 28. As always, not everyone you might have thought would be in the running got a nod. In a year of incredible movies and incredible performances, the 2016 Oscar nomination snubs were inevitable but still disappointing to Oscar hopefuls and their fans alike.
The 2016 Golden Globes nominations provided a little warning as to what the major snubs would be. The Hollywood Foreign Press withheld nods from Charlize Theron (Mad Max), Johnny Depp (Black Mass), Carey Mulligan (Suffragette), Straight Outta Compton, and the entire cast of Spotlight, to name just a few. But the Hollywood Foreign Press' tastes often differ from the Academy's. Variety's Oscar predictions prophesied that the Oscars actually would recognize some of the work that the Globes overlooked, but until Guillermo del Toro, Ang Lee, John Krasinski, and Academy president Cheryl Boone Isaacs read the nominations Thursday, nothing was for sure.
So what were the biggest snubs when the Academy Award nominees were announced Thursday morning? Let's take a look:
'See You Again,'Wiz Khalifa —Best Original Song
The Fast & Furious 7 song definitely deserved a nod, not only because it is a nod to the late Paul Walker, but because it is an amazing, beautiful jam.
Idris Elba, Beasts Of No Nation — Supporting Actor
Idris Elba was thought to be a shoe-in for the supporting actor category, which is why his lack of nomination is a big surprise and disappointment.
Helen Mirren, Trumbo — Supporting Actress
It didn't occur to anyone that Helen Mirren wouldn't be nominated. This is a major snub from the Academy. And you don't snub Dame Helen Mirren.
Michael Keaton, Spotlight — Supporting Actor
Oh, snap! Although a nod for Michael Keaton was a bit of a long shot given the ensemble nature of Spotlight, his work in this film is absolutely Oscar-worthy. Mark Ruffalo, who also stuns in Spotlight did get a Best Supporting Actor nomination, however.
Maggie Smith, The Lady In The Van — Best Actress
Best Actress was a tough category this year, and with only five spots, amazing performances were sure to be snubbed. It's just a bummer to see it happen to a Queen like Maggie Smith.
Carol — Best Picture
The Academy can nominate up to ten films for Best Picture, but this year they only choose seven. That's a bold move in a year so rife with incredible cinema. Carol was highly anticipated to be in this category; both actresses, however got nominations for their roles — Cate Blanchette for Best Actress in a Leading Role and Rooney Mara for Best Actress in a Supporting Role.
Will Smith, Concussion — Best Actor
Best Actor was another packed category this year, and even though Smith got a nod at the Golden Globes, being nominated for the Oscar seems like a bit of a reach. Nevertheless, he was absolutely a contender.
JJ Abrams, Star Wars — Best Director
Talk about snubbing! JJ Abrams saved one of the world's most beloved series with Star Wars: The Force Awakens.
Sicario — Best Picture
With only three nominations (Cinematography, Sound Editing and Original Score) Sicario definitely got snubbed in this year's nominations.
Steve Carell, The Big Short — Best Actor
The Big Short, like Spotlight, is an ensemble based film. So while the movie itself is getting a ton of attention, the actors haven't been singled-out in a typical Oscar-type way. Christian Bale took the nomination for Best Supporting Actor for his role in this movie, but it would have been nice to see Carell get a nod as well.
The Danish Girl — Best Picture
While both Eddie Redmayne and Alicia Vikander got noms for their roles in The Danish Girl, it's shocking that the movie isn't up for Best Picture. It's an important and timely story, told in a cinematographically beautiful way, and seems incredibly worth of an Academy Award nomination.
Aaron Sorkin, Steve Jobs — Best Adapted Screenplay
Michael Fassbender and Kate Winslet both got recognized for their roles, but screenwriter Aaron Sorkin was notably missing among the nominations.
Inside Out — Best Picture
It's very rare for an animated movie to be in the Best Picture category, but many thought Inside Out was deserving of a spot. It's definitely the favorite in the Best Animated Feature Film category, and is also up for Best Original Screenplay, but a movie of this caliber — even if it is a cartoon — should get a Best Picture nod as well.
Daisy Ridley, Star Wars — Best Actress
Ridley took the world by storm with her portrayal of Rey...but apparently didn't have enough of an effect on The Academy.
Jacob Tremblay, Room — Best Actor
It's hard to say an actor got snubbed when he's only 9 years old, but Tremblay's role in Room required some serious acting chops. He and Brie Larson hold the entire movie on their own, and it would have been nice to honor the kid for his work.
Michael B. Jordan, Creed — Best Actor
While Sylvester Stallone got a nomination for Best Supporting Actor for his portrayal of Rocky Balboa, it seems crazy that Jordan did not also receive a nod for Best Actor in a Leading Role.
Todd Haynes, Carol — Best Director
Again, Carol gets snubbed in a major category. Not cool.
Straight Outta Compton — Best Picture
Straight Outta Compton only got one nod this year for Best Original Screenplay. It's lack of nomination for Best Picture is shocking, especially since there were technically two open spots in the category.
Lily Tomlin, Grandma — Best Actress
Lily Tomlin was an underdog for this category, not because her work wasn't fantastic in Grandma but because of the sheer amount of talent up for this category. Even still, it would have been nice to see the comedy legend get a nod this year.
Jane Fonda, Youth — Best Supporting Actress
Like her co-star in Grace & Frankie, Fonda was also an unlikely candidate for a Best Supporting Actress nod, but definitely still in the running. With two Oscars and five other nominations under her belt, it doesn't feel like a huge snub to Fonda. Let's just hope she still goes to the awards show; her fashion is always on-point.
Johnny Depp, Black Mass — Best Actor
Black Mass didn't get much attention, but Depp's portrayal of legendary gangster Whitey Bulger is some incredible work. There were no real surprises in the Best Actor category — all of the men nominated were favorites — but Depp could have easily been a part of that group.
Star Wars: The Force Awakens — Best Picture
Star Wars: The Force Awakens was easily the most popular film of the year (perhaps of all time?), but that doesn't always translate into Oscar nominations. Still, the feats accomplished in this movie are incredible, and it was definitely deserving of a nomination, if not a win.
Image: Frazer Harrison/Getty Images Entertainment; Giphy