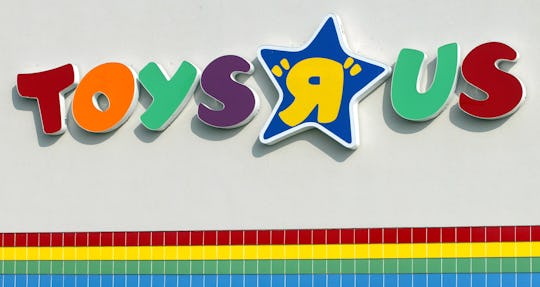 Tim Boyle/Getty Images News/Getty Images
The 2016 Toys R Us Cyber Monday Sales That'll Delight Kids Of All Ages
Never does the slogan "I don't want to grow up, I'm a Toys R Us kid" ring truer than when you're staring down every kind of toy imaginable. It doesn't matter how old you are, shopping at Toys R Us just makes everyone feel young at heart. And thanks to the recently released 2016 Toys R Us Cyber Monday sales, that childlike joy starts earlier and stretches even longer this year.
Fresh on the heels of the toy monolith's Black Friday bargains, Toys R Us has announced that Cyber Monday is kicking off earlier than ever. In fact, the store needed a new name to cover the experience: Cyber Week. This special savings bonanza kicks off on Saturday, Nov. 26, with "cyber" deals on thousands of toys, in addition to more than 100 top savings available for the first time at Toys R Us' brick-and-mortar stores on Cyber Monday itself.
To celebrate the whole shebang, Toys R Us is offering 15 percent off any regular priced item site-wide on Sunday, Nov. 27 as well as $10 off any purchase of $100 or more at ToysRUs.com on Monday, Nov. 28. And did I mention there will also be new surprise deals launched every single day? Make sure you sign up for the Toys R Us email newsletter so you don't miss any huge scores.
If you're dying to find out some of the savings you're in store for thanks to the 2016 Toys R Us Cyber Monday sales, look no further — the following are all part of this huge money-saving Cyber Week touted by the toy store as their best ever.