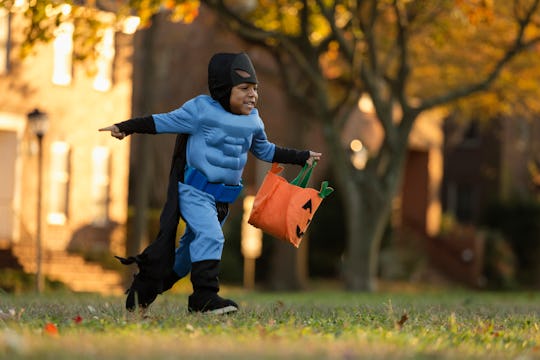 Roberto Westbrook/Tetra images/Getty Images
Here Are The 25 Halloween Costumes You're Going To See Everywhere This Year
It's never too early to start planning your Halloween costume, especially when you have a preview of the year's hottest disguises. Thanks to the 411 from Fun.com (the brand behind HalloweenCostumes.com), you can already take a peek at 2020's most popular Halloween costumes — and you might be surprised to see what's trending (and what's not).
Gone are the big hits of the past like The Little Mermaid, Onward, Aladdin, Peppa Pig, Ghostbusters, Game of Thrones, Karate Kid, and A League of Their Own, as Stylecaster reported. (Dang! I was gonna recycle my Kit costume from last year). In their place is a whole new cast of characters for the entire family to choose from.
Let's start with the ladies, shall we? Here are the top five contenders:
Superheroes (Wonder Woman and Black Widow)
Harley Quinn — the Joker's lover and accomplice made famous by Margot Robbie in the recent DC Comics' Suicide Squad film.
Star Wars characters. Popular this year will be Ahsoka Tano, the Padawan learner to Anakin Skywalker and a hero of the Clone Wars, duh.
Disney characters, a perennial favorite.
The Handmaid's Tale, because natch.
Men, on the other hand, are putting "the Force" first in their list of October 31 wear. Think:
Star Wars
Superheroes. This year Avengers and Justice League lead the pack.
Nostalgia. We suspect this means old timey characters like newsies or retro baseball players. MLB, RIP.
Tiger King. Dear God, we can see the Instagram posts now, so many dads rocking the Joe Exotic mullet.
Political. Beware of all kinds of spooky Trumps and Bidens.
As for the kids, Fun.com has plenty of stats on them too. They divide their research into girls and boys, though we believe any kid can be any of the following characters. For girls, Fun.com is forecasting these top five:
Wonder Woman
Disney. Elsa continues to reign supreme thanks to last year's release of Frozen 2.
Trolls. Trolls World Tour soundtrack has been on repeat in my home since its release this spring so this makes sense.
Harry Potter. It's lightening bolt scar, what kid wouldn't want that on their forehead?
Social media personalities. Color me surprised. Apparently girls want to go as JoJo Siwa for Halloween this year.
For boys, Halloween 2020 is shaping up to be another celebration of superheroes. The top five includes all the classics.
Spider-Man. Once they can make the web fingers, dressing as Spider-Man is the next natural step.
Batman
The Mandalorian and Baby Yoda. Based on the product roll-out from this series alone, this top five contender was in the bag the minute that Baby Yoda song became every kid's favorite.
Dinosaurs
Sonic
Not to be outdone are the pets of the household. Here's a stunning statistic: A 2018 story from Market Watch reported that pet costumes represent 15% of the $3.2 billion spent on all costume sales. No wonder Fun.com doesn't overlook the data on our favorite furry friends. People love dressing up their fur babies. One caveat: Fun.com explains that pet trends vary greatly state by state, so this list might be a bit different if you life in Milwaukee as opposed to Myrtle Beach:
USPS and UPS employee.
Dinosaur for all of you dying to go full on Jurassic Bark with your pooch.
Lion. Put a furry lion mane on anything and prepare to be bombarded with "awww!s"
Spider because extra legs equals extra funny.
Baby Yoda. I think the better question here is who is not going as Yoda this Halloween?
Naturally, Fun.com tells us to expect some time tested staples in the mix; costumes like first responders and astronauts, and, the classic witches, ghosts, zombies, and vampires.
To start shopping, visit HalloweenCostumes.com.