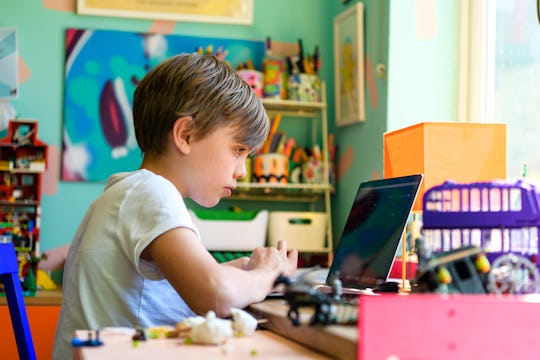 Jorn Georg Tomter/Photodisc/Getty Images
The 3 Zodiac Signs Most Likely To Thrive At Distance Learning
Your child probably did some learning from home in the spring (even if they just learned how to switch on the iPad), but this is the first year many will be starting the school year off with a distance learning curriculum. With so much up in the air right now, you may find yourself looking to the stars for answers. Well, if astrology is your thing (or even if you just dabble) then you'll want to listen up, because astrologers say there are certain zodiac signs that will thrive at distance learning.
If your little one doesn't fall into one of these signs, don't panic; that doesn't mean that they won't get the hang of distance learning eventually. Just as certain kids need acclimation to in-person school while others take off running into the playground, your little one just may need some time to get into the groove of at-home learning. I know as a Pisces, it always takes me a bit to acclimate to change, and some of the more dreamy signs may get stressed when trying to focus on the lesson.
So what are the three signs that will thrive at distance learning? Virgo, Aquarius, and Libra should have an easy time with it, but each for unique reasons. Read on to find out more.