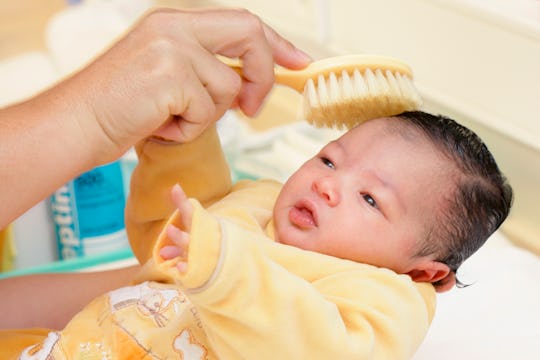 BSIP/Universal Images Group/Getty Images
This Silicone Brush Is A Game Changer For Cradle Cap — Plus 3 Other Baby Brushes That Parents Love
It may sound simple, but finding the right grooming tools for babies is no easy task (anyone who has tried to trim those teeny tiny nails will likely agree). Traditional hair brushes, in particular, can often be too rough on a baby's delicate strands and scalp. Instead, the best baby hair brushes are made of high-quality materials and designed with ultra-soft bristles that won't pull or tug.
When shopping for a baby hair brush, you'll notice that they typically come with one of three types of bristles, and some will be better suited for certain skin conditions like cradle cap or eczema:
Natural bristles: Typically made out of hypoallergenic goat hair, these are the softest of any you'll find. While those natural fibers make them best suited for everyday brushing and smoothing, they may not have the right tension needed for working out any knots or tangles — if you're looking for a brush you can use into the preschool years, this might not be your best bet.
Solid bristles: These kinds are basically the mini version of the one you may already be using on yourself. With plastic or wooden bristles, they are a tad stiffer than goat hair, but they will be able to give you the right flexibility for styling and detangling longer, thicker hair. For the most versatility, however, look for models that can be used on wet or dry hair as they will better be able to glide through kinks.
Silicone bristles: Made entirely of silicone, these flexible brushes have tiny nubs that are ideal for gently scrubbing away scaly patches on both baby's head and even on the rest of their body. The material has an advantage over plastic bristles because it's more resistant to bacterial buildup and therefore a safe option for using in the bath.
With all that in mind, below you can find a list of the best hair brushes for babies you can buy. All of these are parent-approved and highly rated on Amazon.
We only recommend products we love and that we think you will, too. We may receive a portion of sales from products purchased from this article, which was written by our Commerce team.