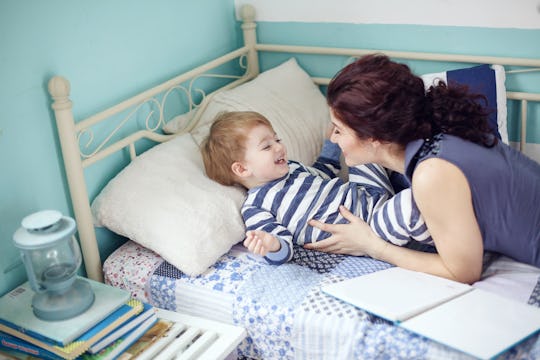 Alena Ozerova / Shutterstock
4 Toddler Beds That Make The Switch From Crib To Big Kid Bed So Much Easier
Transitioning your little one from crib to toddler bed is a major rite of passage. The toddler milestone can be super exciting because your child is growing up — and stressful because there are a bunch of new factors to consider (most importantly, safety). The best toddler beds are designed specifically for this transition.
When shopping for a toddler bed, the qualities to look for are pretty intuitive: sturdy, durable, no sharp edges, and close to the ground, with safety features like guard rails and a maximum weight that your child doesn't exceed. You'll probably also want something that matches your child's bedroom. Some cribs convert into a toddler-sized bed, so if you already have one you might be all set. If you're traveling with your toddler, you might opt for a cot-like toddler bed that's portable, so your little one can stay safe and comfy no matter where you are.
Keep in mind that there's a really small window for using a toddler bed. In a 2019 interview, certified sleep consultant Christine Stevens told Romper that parents should consider switching their child to a toddler bed after age 2 1/2 or 3, though most toddlers could be ready between the 18-month and 4-year mark. But since toddler beds are the same size as a crib, your child will likely outgrow theirs by age 6, giving you just a few years of use. This means you may wish to look for a very affordable toddler bed, or one that can convert into other furniture after your little one graduates to a big kid bed.
Toddler beds are a great way to transition your little one to a standard bed, due to their smaller size and proximity to the ground, as well as built-in side rails. But if your toddler is ready for a larger twin bed, you might be able to switch them directly from their crib to a regular bed — with the addition of protective guard rails, of course. Moving straight to a twin bed can save money, and it means there's room in the bed for you to cuddle up beside your child if they tend to need comfort at night.
The choice of whether to transition your child from their crib to a toddler bed is a personal one. Some kids truly feel more secure in a toddle bed due to its smaller size and the comforting feel of their dual-sided crib mattress, while others do great with a twin bed and guard rail. If you are looking for a stand-alone toddler bed, this list has four that Amazon reviewers report are safe, functional, and cute. And if you're looking for a twin bed and guard rail to invest in, scroll to the end of the list for recommendations.