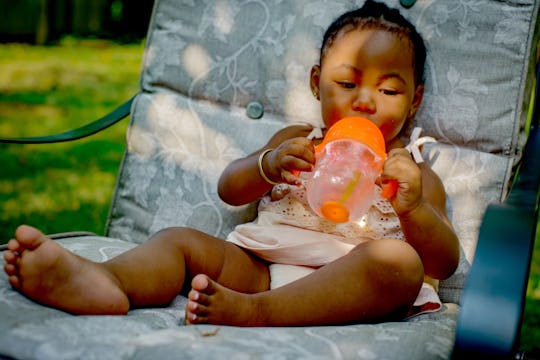 Sue Barr/Image Source/Getty Images
These Are Hands Down The Best Transition Sippy Cups — & They're All On Amazon
by Ileana Morales Valentine
As your baby becomes a toddler, the best transition sippy cup will help them say goodbye to bottles (or breast) and move toward drinking from cups, cutting back on spills along the way.
That said, experts will tell you that it's actually best to transition straight to an open cup, or at the very least, to using a straw. However, if the idea of cleaning up endless messes doesn't appeal to you, don't worry. As long as your child uses a sippy cup in moderation (to avoid things like dental decay and oral motor delays), having a sippy cup in the mix is okay.
Here's what you need to know about each type of sippy cup:
Hard or soft spout: These may be the easiest first sippy cups for your baby transitioning off the bottle because the soft spout requires sucking rather than sipping to drink. Soft spouts will feel more familiar to babies used to a bottle's nipple, and are usually suitable from 6 months of age. But, as babies start teething and perhaps chewing on the spout, a hard spout might make more sense.
Straw: A sippy cup with a straw is the next best thing to using an open cup, according to WebMd. Expect it to take some time for your baby or toddler to learn to suck through a straw though.
Flat lid: With no spout, liquid is released from any edge of a 360-degree sippy cup when lips are pressed on it. These tend to be easier to clean thanks to fewer parts, and it's the closest design to an open cup.
In terms of other nice features, sippy cups with lids that can be closed for travel are ideal for on-the-go use, and some sippy cups have specially designed handles or ribbed edges for a comfortable grip. Most sippy cups are affordable and made of plastic, but be sure to choose a BPA-free option. Stainless steel cups are a more durable investment, but there is the added weight to contend with.
All of my picks are top-rack dishwasher safe, but note that cups with many parts or hard-to-reach spots can be harder to disassemble and clean.
Below, you'll find a transition sippy cup or two that works for your family.
We only recommend products we love and that we think you will, too. We may receive a portion of sales from products purchased from this article, which was written by our Commerce team.