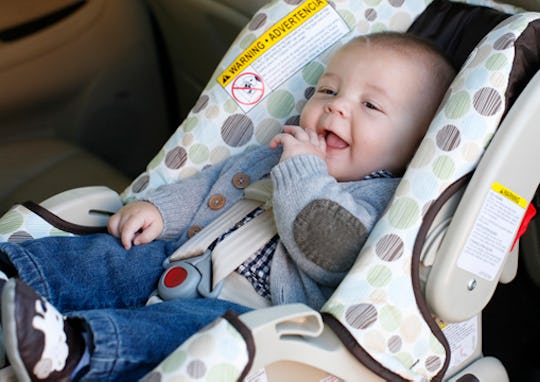 National Highway Traffic Safety Administration
The 7 Best (& Most Popular) Infant Car Seats Of 2018, According To Babylist
When it comes to picking just the right essentials for your baby registry, the choices can seem overwhelming. (I almost cried just looking at the stroller aisle of our local baby superstore.) Getting wisdom from experienced parents can make all the difference in the world, especially when it comes to choosing something as important as a car seat. That's why Babylist's report on the most popular car seats of 2018 could be helpful to any expecting parent.
The all-in-one online baby registry surveyed thousands of customers about the items they found most useful once their little one arrived. Babylist then pulled the top picks and added some of their own findings, for a handy reference guide parents-to-be can use when making out their wish lists.
Since you'll be using a car seat pretty much constantly from the moment you leave the hospital, finding just the right one is a bigger decision than, say, choosing between a woodland and a nautical theme for the nursery. As Babylist pointed out, all new car seats today meet government safety standards, but which type to get depends on your car, your preferences, and your lifestyle. A convertible car seat — the type that can be used for both small infants and children up to 65 pounds — is a practical option if you don't want to keep buying new seats for each stage of your child's growth. On the other hand, an infant car seat can be a godsend for busy moms. They're the kind that snap in and out of a base, making it easy to transfer the seat to a stroller frame or just to carry by the handle; no need to disturb a napping baby by lifting it out of the seat.
These are the top choices of infant car seats, as recommended by the Babylist survey (they have a separate list for best convertible car seats). Any one of these would make an excellent addition to your registry, so get ready to read and click.