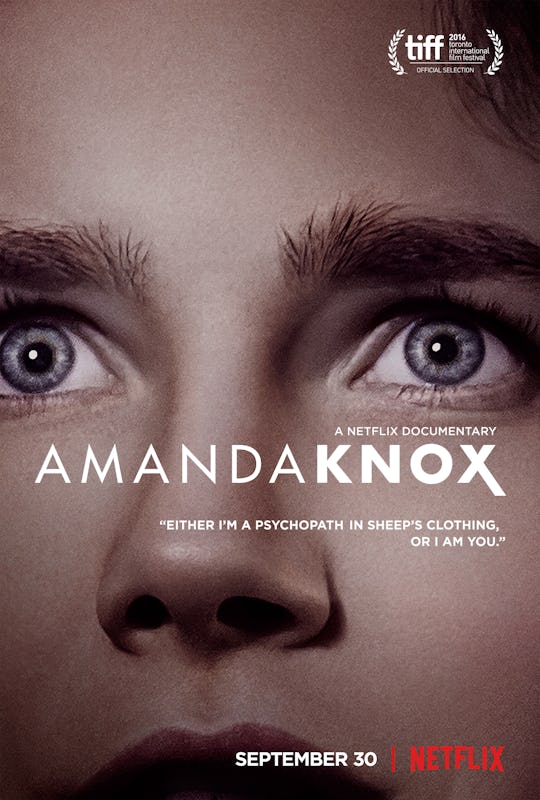 Netflix
The 'Amanda Knox' Netflix Trailers Show That There Are Two Sides To Every Story
True crime is all the rage lately – and by lately I mean for the last two-ish years – in the film, TV, and podcast worlds. Netflix jumped on that bandwagon with last year's smash hit Making a Murderer (set to return for Season 2), following This American Life podcast Serial's debut the year before. Later this month, we're even getting a CBS mini-series looking into a re-opened investigation into the decades-old unsolved murder of JonBenét Ramsey. A new Netflix true-crime documentary about the murder of Meredith Kercher will follow at the end of September, and the new Amanda Knox Netflix trailers show that there are two sides to every story.
Here is Netflix's official synopsis for the upcoming documentary:
Was she a cold-blooded psychopath who brutally murdered her roommate or a naive student abroad trapped in an endless nightmare? In the Netflix Original Documentary Amanda Knox, directors Rod Blackhurst (Tribeca Audience Award–winner Here Alone) and Brian McGinn (IDA Award–winner Chef's Table) and producer Mette Heide (Peabody Award–winner India's Daughter) explore the notorious case that made headlines around the world.
As we can see, the two-sides aspect of Knox's story is being emphasized even here in the synopsis. Much like Serial's Adnan Syed and Making A Murderer's Brendan Dassey and Steven Avery, public opinion has always been divided when it comes to Knox.
Some (notably including the Italian government, who tried and acquitted Knox twice) fully believed that American exchange student Knox was allegedly responsible for having murdered her British roommate Meredith Kercher in cold blood while they were living in Perugia. Others were equally sure that Knox, who wound up spending several years in Italian prison before finally being acquitted, had nothing to do with it and was a victim of a terrible miscarriage of justice by Italy's law enforcement. The fact that another man, Rudy Guede, was later tried and convicted of Kercher's assault and murder, further complicated the whole matter – though many continue to believe that Knox was somehow involved.
Netflix's recently-released dual trailers for the new documentary interestingly further emphasize the guilty-or-innocent aspect of Knox's story.
"At what point does perspective become reality?," Netflix tweeted along with the "Suspect Her" trailer that casts Knox in a guilty light.
The alternate trailer, "Believe Her," sets Knox as just another victim in the horrifying saga of Kercher's murder.
Regardless of personal opinions related to this case, this marketing strategy by Netflix is undeniably genius. Nearly every other "Is this person guilty or innocent?" documentary takes a pretty firm stand one way or the other – the creators of Making A Murderer, in particular, were pretty unambiguous in their support of Avery's and Dassey's innocence. If the actual Knox documentary follows the same "showing both sides" perspective that these trailers indicate, it will be a truly unique and eye-opening work among other true crime media which can often be less than neutral.
Amanda Knox will have its world premiere at the Toronto International Film Festival on September 9 and its wide release on September 30 on Netflix.